®

Today's poem is "Pacific"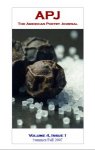 from The American Poetry Journal
Lola Haskins
' most recent collection of poetry is a new and selected called Desire Lines (BOA, 2004). She has published two prose books this year: Not Feathers Yet: A Beginnerís Guide to the Poetic Life (Backwaters Press), and Solutions Beginning with A, fables about women with images by Maggie Taylor (Modernbook). Her commentaries are regularly broadcast on NPR.
Other poems by Lola Haskins in Verse Daily:
August 26, 2004: "For the Suicides" "Izumi is sending a stream of characters into the night...."
June 18, 2004: "Aquarium" and "Adagio" "Here behind glass they are stacked..."
Books by Lola Haskins: Not Feathers Yet: A Beginner's Guide to the Poetic Life
, Desire Lines
, The Rim Benders
, Extranjera
, Planting the Children
, Hunger
, Forty-Four Ambitions for the Piano
, Castings
Other poems on the web by Lola Haskins:
Thirty-six poems
"Sleep Positions"
"What You Want"
Twelve poems
"Patsy Sees a Ghost"
"To Play Pianissimo"
"Grandmother Speaks of the Old Country"
"Django in Hang-Zhou"
"Recruits: Fort Riley, Kansas"
"Six Ways"
"Beyond"
"Staccato" (Audio)
"Seven Turtles"
Seven poems
Two poems
"Lines for Barden Moor"
"Lines for Barden Moor"
Lola Haskins's Home page.
About The American Poetry Journal:
Poets in this issue: Naveed Alam, Lea Banks, Nicolas A. Destino, Patricia Fargnoli, Lola Haskins, Melissa Holm, Jennifer Juneau, Dorianne Laux, Jeffrey Levine, Anne Power, Doug Ramspeck, C. J. Sage, Natasha Sajť, Sarah J. Sloat, Alexandra van de Kamp, Adam Edison Watkins
Subscription: 1 year (2 issues), $10
The American Poetry Journal * PO Box 2080 * Aptos, CA 95001-2080
Editor: J.P. Dancing Bear

Other poems from The American Poetry Journal in Verse Daily:
September 24, 2007: "Raft" by Dorianne Laux
March 16, 2007: "The San Simeon Zebras" by C. J. Sage
March 8, 2007: "Sevenling (Emotions scramble)" by DGB Featherkile
March 6, 2007: "Love Note to Alfred E. Neuman" by C. J. Sage
September 1, 2006: "Clockwork" by Steven D. Schroeder
August 29, 2006: "At The End Of A Long And Varied Career" by Tom C. Hunley
February 2, 2006: "Paradise in the City of Shivering Bells" by S.D. Lishan
January 31, 2006: "Cupid and the Party Dress" by Cassie Sparkman
January 29, 2006: "When I Was Gone to Summer" by Theodore Worozbyt
January 26, 2006: "The Dark Pelican" by C.J. Sage
January 23, 2006: "Holy Spirit" by Nicole Cuddeback
October 6, 2005: "How to Talk to Your Yard as If Itís Your Lover" by Mary Christine Delea
September 29, 2005: "Love Song to My Neighborhoods" Kelli Russell Agodon
September 27, 2005: "Vermont Barn" Lynne Knight
September 26, 2005: "Enter, Fall" Margot Schilpp
March 1, 2005: "Wonder Woman Dreams of the Amazon" by Jeannine Hall Gailey
February 24, 2005: "Garden of the Material" by B. L. P. Simmons
February 23, 2005: "Catch" by Jennifer Michael Hecht
July 22, 2004: "Angel Shark" by Hailey Leithauser
July 21, 2004: "A H O Y !" by Jason Gray
July 19, 2004: "It is the Soul" by Hannah Stein