®

Today's poem is "O Mouth Fable"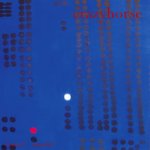 from Crazyhorse
Elena Karina Byrne
is a teacher, editor, and Poetry Consultant and Moderator for The Los Angeles Times Festival of Books. She was Regional Director of the Poetry Society of America for twelve years and is now Literary Programs Director for The Ruskin Art Club and MOCA. She has recent work in The Yale Review, The Paris Review, The American Poetry Review, Denver Quarterly, Ploughshares, Verse, Tri-Quarterly, and the Best Aemerican Poetry 2005. Her books include The Flammable Brid (Zoo/Tupelo Press, 2002) and Masque (Tupelo Press, 2007).
All the poems by Elena Karina Byrne that have appeared on Verse Daily:
December 21, 2002: "The Proportion of Broken" "Relentless, I love relentless: relentless..."
Books by Elena Karina Byrne: The Flammable Bird
, Masque
Other poems on the web by Elena Karina Byrne:
"Queequeg's Tattoos: A Headless Mask"
"The Collector Calls"
"The Sound of Sheep Before Shearing"
Two poems
"Ghost Mask"
"Without the Elation of Rage"
"Immaculate Measure"
"Disguise Mask"
About Crazyhorse:
Poets in this issue: Nin Andrews, Ciaran Berry, Lisa Beskin, Marianne Boruch, Elena Karina Byrne, René Char, Nancy Naomi Carlson, Michael Chitwood, Wyn Cooper, Chard deNiord, Chris Forhan, Michele Glazer, Albert Goldbarth, Mark Halperin, James Harms, John Hodgen, Edward Haworth Hoeppner, Nathan Hoks, Laura Koritz, John Mann, Debra Nystrom, Srikanth Reddy, Allison Titus, Sandy Tseng, Nance Van Winckel, G. C. Waldrep, Amanda Rachelle Warren, Baron Wormser
Subscription: 1 year (2 issues), $15
Crazyhorse * Department of English * College of Charleston * 66 George St. * Charleston, SC 29424
Editor: Carol Ann Davis & Garrett Doherty

Other poems from Crazyhorse in Verse Daily:
June 12, 2007: "Eat This" by Nance Van Winckel
June 11, 2007: "Inside the Body" by Nathan Hoks
December 24, 2006: "Northwest" by Stacie Cassarino
December 21, 2006: "If We Are Pretty Ghosts. Hammered In" by Kerri Webster
December 18, 2006: "Salt" by Gary Soto
June 11, 2006: "Eight" by Todd Smith
June 10, 2006: "Anecdote of the Field" by John Gallaher
June 7, 2006: "Bitterness" by Charlie Smith
June 5, 2006: "Again (Wrightsville Beach)" by Robert Creeley
December 23, 2005: "Spell for Setting the Sun" by Susan Meyers
December 20, 2005: "And the Wound Says" by Nance Van Winckel
December 18, 2005: "The Elephant's Graveyard" by David Wagoner
May 19, 2005: "Levels" Alexandra Teague
May 18, 2005: "Poem with No Moral at the End" Charlie Clark
November 28, 2004: "Spring and Winter, Coeval" by Charles M. Israel, Jr.
November 26, 2004: "Botanists Who Feel Excluded Rejoice" by Anthony Lacavaro
May 23, 2004: "Template" by A. V. Christie
May 21, 2004: "Is More Than" by Susan Hutton
May 17, 2004: "Solar Ice" by Paul Mariani
December 12, 2003: "East Dakota" by Edward Haworth Hoeppner
December 4, 2003: "May Suspensions" by James McCorkle
November 27, 2003: "Reservoir" by Doug Sanders
May 14, 2003: "Owls in the City Hills" by D. R. Goodman
May 13, 2003: "The Sightstop" by Bill Knott
January 26, 2003: "To His Mistress Going to Bed" by Nathan Hoks
January 21, 2003: "The Teller is the Only Survivor of the Fairy-Tale Ending" by Mark Yakich
January 20, 2003: "Cicadas And" by Nathan Hoks
Support Verse Daily
Sponsor Verse Daily!
Home Archives Web Monthly Features About Verse Daily FAQs Submit to Verse Daily Publications Noted & Received
Copyright © 2002, 2003, 2004, 2005, 2006, 2007 Verse Daily All Rights Reserved