®

Today's poem is "Leaving Mud Road"
from The Elephant House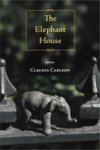 Claudia Carlson
was born in Bloomington, Indiana. She double-majored in English and Art History at Stony Brook University. She has worked as a quilt designer, cartographer, calligrapher, illustrator, book designer and website designer. She is the co-editor of the anthology, The Poet¹s Grimm: Twentieth Century Poems from Grimm Fairy Tales, 2003. Divide, The Cream City Review and Gargoyle Magazine have published her photographs. Her poems have appeared in many journals including Court Green, Southern Poetry Review, Heliotrope, and Tupelo Press' Poetry Project. On Sundays, she paints watercolors (see her work at www.claudiagraphics.com). She is a senior book designer at Oxford University Press and lives in New York City with her family.
About The Elephant House:
"Every page of Claudia Carlson's wonderful new book The Elephant House brings a fresh pleasure and takes the reader to a new place. Carlson's speakers move through personal and historical landscapes, packing and unpacking, searching for home and all that it represents. These poems are like the boxes that 'litter the floor / their virginal labels daring you to pry them open.' Open the book and you'll find Paris, Brooklyn, Baton Rouge. A mother, a daughter, a fairy tale heroine, an artist's model. Open this book and prepare to fall under the spell of these delightful, inventive poems."
—Nicole Cooley
"The poems in The Elephant House display a remarkable range, encompassing the autobiographical past, the vividly limned present, and the more timeless zone of the imagination, where the poet encounters historical and mythic figures such as Blake, Goya, Gregor Mendel, and Bluebeard. Carlson can be funny, as when she invents the Greek goddess Pornos, half-sister of Eros, but she is not afraid of 'seeing the worst made visible,' as she writes in another poem. Often pleasure and fear are not far apart. The book's third section contains a moving sequence about the life and death of Carlson's mother, who was also a poet, and a sense of inheritance haunts the volume. What forms this varied collection into a coherent whole is Carlson's peculiar sensibility, her eye attuned to the incongruous, and her sharp writing. This is an impressive debut."
—Jeffrey Harrison
"Claudia Carlson's poems are going places: breakfast with Blake, lunch with Goya, then a modeling session with Picasso and a night at Hotel Blythe, where the bedspreads are stiffer than road kill. Carlson's poems combine wit and form with a painter's eye for detail (boyblue hairbrush, origami trousers, spoons in velvet beds). And while one poem considers Sleeping Beauty's dreams and another Blue Beard's prenuptial agreements, this book is haunted by a mother with a 'James Dean swagger' and a 'hot pink girlie taboo' bathroom. Don't enter The Elephant House expecting to pull up a chair and put up your feet—Carlson knows that 'when you move around a lot, things don't stay the same faster,' and you won't want to miss a thing."
—Meg Kearney
"Surprise after surprise awaits within Claudia Carlson's first volume. There's fresh, astonishing poetry on every page; powerful, playful and inventive. Inside The Elephant House is a wild and touching world, and you'll be eager to explore every corner."
—Kate Light
Support Verse Daily
Sponsor Verse Daily!
Home Archives Web Monthly Features About Verse Daily FAQs Submit to Verse Daily Publications Noted & Received
Copyright © 2002, 2003, 2004, 2005, 2006, 2007 Verse Daily All Rights Reserved