®

Today's poem is "Afire"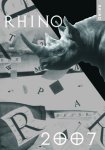 from Rhino
Andrea Scarpino
is a Midwesterner by trade, but is currently faking the glorious life in Los Angeles. She is Production Assistant at Red Hen Press.
Other poems on the web by Andrea Scarpino:
Three poems
About Rhino:
Poets in this issue: Gabe Adoff, Kelli Russell Agodon, Jeannette Allée, Victoria Anderson, Tani Arness, Lana Hechtman Ayers, Sandra Beasley, Carol Berg, Catherine Black, Victoria Boynton, Andrea Scarpino, Cathy Carlisi, Lynne Yu-Ling Chien, Tom Christopher, Ewa Chrusciel, Cynie Cory, James Cushing, Renée D'Aoust, John Matt Dorn, Wendy Drexler, Thomas Dukes Etudes, Edison Dupree, D.M. Ferguson, Jennifer Finstrom, Geoffrey Forsyth, Elizabeth Graettinger, James Grinwis, Kelle Groom, Mark Halperin, Renee Lynn Hansen, Rebecca Hazelton, Kathleen Hellen, Jannett Highfill, Mary Crockett Hill, Taj Jackson, Bonnie Jacobson, Jeff Jarosch, Allan Johnston, R. Kimm, Elizabeth Knapp, David Koehn, Douglas Korb, Daniel Langton, Mercedes Lawry, Paul Legault, Chip Livingston, Taylor Loy Boris, David Lunde, Scott MacPhail, Christopher Malpass, Jack Martin, Patricia McMillen, Jalina Mhyana, Steve Mueske, Matthew Murrey, Jason Olsen, Lynn Pattison, James Piiparinen, Dan Pinkerton, Julie Platt, Alison Powell, Claudia Putnam, Emma Ramey, Josh Rathkamp, John Repp, Andrew Michael Roberts, Natania Rosenfeld, Sankar Roy, F. Daniel Rzicznek, Miriam Sagan, Andrea Scarpino, Mather Schneider, Joan Siegel, Martha Silano, Rebekah Silverman, Clara Silverstein, Matthew Sisson, Erin Elizabeth Smith, Mark Smith, John Struloeff, Chad Sweeney, Molly Tenenbaum, Jamie Thomas, Meg Thompson, Susan Varnot, David Wagoner, Allen West, Nancy White, Lance Wilcox, Vivienne Woodhead, Mario Benedetti, Nicolas Mansito, Gastão Cruz, Alexis Levitin, Lorand Gaspar, Daniela Hurezanu, Stephen Kessler, Ericka Ghersi, Toshiya Kamei, Pablo Henrik Llambías, Ingrid Lansford, Li Nan, Amy Liang, Steven Schroeder, Nava Semel, Miriam Schlesinger
Subscription: 1 year, $10
Rhino * The Poetry Forum, Inc. * P.O. Box 591 * Evanston, IL 60204
Editors: Deborah Nodler Rosen, Alice George, Kathleen Kirk, Helen Degen Cohen


July 21, 2007: "Inishmór Goats" by Ronda Broatch
July 19, 2005: "Locust" by David Appelbaum
Support Verse Daily
Sponsor Verse Daily!
Home Archives Web Monthly Features About Verse Daily FAQs Submit to Verse Daily Publications Noted & Received
Copyright © 2002, 2003, 2004, 2005, 2006, 2007 Verse Daily All Rights Reserved