®

Today's poem is "but the house sparrows are . . ."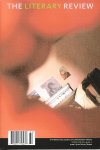 from The Literary Review
Jon Woodward
's first book of poems, Mister Goodbye Easter Island, was published by Alice James Books in 2003. His next book, Rain, is forthcoming from Wave Books in 2006.
Other poems by Jon Woodward in Verse Daily:
June 27, 2003: "And Because the Leaves Were On Our Side" "It was because all those stale clouds of racehorse..."
About The Literary Review:
Poets in this issue: Ed Skoog, Joshua Beckman, Timothy Donnelly, Diane Mehta, Cate Marvin, Jared Hayley, Sabine Macher, Regan Good, Pragetta Sharma, Brian Teare, John Kinsella, Geoffrey Nutter, Stefanie Heim, Catherine Barnett, Jennifer Moss, Thomas Hawks, Barry Ballard, Louis Daniel Brodsky, Alex Lemon, Jon Woodard, Thomas Halloran, Suzanne Bottelli, Chris Edgar, Eric W. Schramm, Joanne Goodman, Jill Osier
Subscription: 1 year (3 issues), $18
The Literary Review * 285 Madison Avenue * Madison, NJ 07940
Editor-in-Chief: Rene Steinke

Other poems from The Literary Review in Verse Daily:
October 7, 2005: "When Will We Begin?" by Eric Elshtain
October 3, 2005: "Refugee" Richard Hoffman
May 27, 2005: "The Gazing-Globe Garden" Jeanne Larsen
May 24, 2005: "Music Left by Another" George Looney
May 22, 2005: "Dishonest Elegy for a Sentimental Mood" Melissa Koosmann
May 20, 2005: "Pas De L'Incise" D. Nurske
January 27, 2005: "What Goes On" by Scott Topper
January 26, 2005: "We Golems" by Michael Demos
December 9, 2004: "Seeing Through Things" by Diane Mehta
December 8, 2004: "Oh Yes Tomorrow Expect the Ordinary" by Renée Ashley
December 7, 2004: "Fleur de Lys" by Daniel Mark Epstein
December 6, 2004: "Animals at My House" by Eduardo Chirinos, translated by G. J. Racz
October 9, 2004: "Prose Poems" by Louise Ho
May 19, 2004: "There Must be Music or Fear" by Rodney Wittner
May 18, 2004: "Pythia: The Process" by Rita Signorelli-Pappas
February 4, 2004: "Insomnia" by Rick Mulkey
May 28, 2003: "The Garden" by David Daniel
January 17, 2003: "The Shelter in Children's Stories" by Stephen Frech
December 29, 2002: "Quo Journal: Just as They Come" by Michael Morse
July 28, 2002: "The Heron" by Kathleen Jamie
Home Archives Web Monthly Features About Verse Daily FAQs Submit to Verse Daily Publications Noted & Received
Copyright © 2002, 2003, 2004, 2005, 2006 Verse Daily All Rights Reserved