®

Today's poem is "Frogs"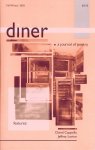 from Diner
Jeffrey Levine
's books are, Rumor of Cortez (Red Hen Press, 2005) and Mortal, Everlasting, winner of the Transcontinental Poetry Prize (2002). He has won the Levis Poetry Prize from The Missouri Review, the James Hearst Poetry Award, the Mississippi Review Prize, and the Kestrel Prize.
Other poems by Jeffrey Levine in Verse Daily:
September 9, 2005: "God of Reprieve and Other Small Miracles " "You can see her from the lake...."
August 22, 2005: "According to the polar reports, "there is no grief. Too cold for that. Still, age after age..."
About Diner:
Poets in this issue: Kelli Russell Agodon, Raffaello Baldini, Maria Banus, Robin Behn, Adria Bernardi, Jonathan Blake, Ronda Broatch, Nan Byrne, James Capozzi, David Cappella, Eugenia Chao, Ken Chen, Karla Clark, Glenn G. Coats, Jennifer L. Collins, Jack Conway, E. Michael Desilets, Joe Dimino, Jehanne Dubrow, K.E. Duffin, Brent Fisk, James Fowler, Jeffrey Franklin, Jeannine Hall Gailey, Christopher Goodrich, Taylor Graham, Timothy Green, Valerie Hall, Anne Heide, Amy Hollowell, K. Carlton Johnson, Richard Kenefic, David Keplinger, Anja Leigh, Jeffrey Levine, Rebecca Loudon, Jana Mackin, Charlotte Mandel, Lynette Ng, Dzvinia Orlowsky, Roger Pfingston, Liza Porter, Andrew M. Roberts, Kathleen Rooney, Michael Scofield, Askold Skalsky, Sarah Sloat, Ellen McGrath Smith, Adam J. Sorkin, Mary Austin Speaker, Richard Spillman, Celina Su, Jane Summer, Beth Sweeney, Carl Tilona, Martha Modena Vertreace-Doody, Lidia Vianu, Julie M. Wade, Sara Wallace, Robert Weldon, Mike White, Karen Wolf, Francis Woodbridge
Subscription: 1 year (2 issues), $18
Diner * PO Box 60676 * Greendale Station * Worcester, MA 01606-2378
Editors: Eve Rifkah and Michael Milligan

Other poems from Diner in Verse Daily:
January 14, 2006: "Centenary Federation" by James Capozzi
May 29, 2005: "Rhapsody" Sandra Kohler
May 28, 2005: "Cooling" Betsey Houghton
Support Verse Daily
Sponsor Verse Daily!
Home Archives Web Monthly Features About Verse Daily FAQs Submit to Verse Daily Diners Noted & Received
Copyright © 2002, 2003, 2004, 2005, 2006 Verse Daily All Rights Reserved