®

Today's poem is "Love of Sport"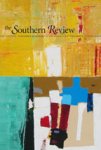 from the Southern Review
Bob Hicok
's fifth collection of poems, This Clumsy Living, is forthcoming in 2007 from the University of Pittsburg Press.
Other poems by Bob Hicok in Verse Daily:
June 15, 2006: "Fall" " Trees and the white room filling with the resistance..."
March 21, 2006: "Weather Report" " Cats are new to me is why I call them..."
June 21, 2005: "The Personal Touch" "I have fifteen cloud stamps, it says on the back..."
November 25, 2004: "Founder's day" "I introduced John Adams to the Pacific..."
March 8, 2004: "Building a painting a home" "If I built a barn I'd build it right into the sky..."
February 17, 2004: "Truth About Love" "I apologize for not being Gandhi or Tom..."
February 16, 2004: "Shopping at the ocean" "Trying to save the bug she killed the bug..."
December 24, 2002: "By their works" "Who cleaned up the Last Supper?..."
August 29, 2002: "Sorting the Entanglements" "In my will the basement goes to the spiders...."
July 14, 2002: "Whither Thou Goest" "Fish can have mad cow disease and I have a problem / with that...."
About The Southern Review:
Poets in this issue: Seth Abramson, Dan Albergotti, Alison Baumann, Jack B. Bedell, Ron Block, Rick Bursky, Ron De Maris, William Greenway, Emily Grosholz, Bob Hicok, Mark Jarman, Richard Jones, Lance Larsen, Barbara Lau, Christopher Matthews, Susan Meyers, Jean Nordhaus, Wyatt Prunty, Christine Rhein, Thom Satterlee, R. T. Smith, W. D. Snodgrass, Jane Springer, Melissa Stein, Keith Taylor, William Wenthe
Subscription: 1 year (2 issues), $15
The Southern Review * Louisiana State University * Old President's House * Baton Rouge, LA 70803-0001
Editor: Bret Lott

Other from West Branch in Verse Daily:
January 19, 2006: "Key to Pronunciation: /sälm/" by Rita Mae Reese
January 17, 2006: "Leaving the Land" by Stephen C. Behrendt
January 16, 2006: "The Clown's Mother" by Brent Pallas
November 25, 2004: "Founder's day" by Bob Hicok
November 24, 2004: "In Thrush Light" by Gyorgyi Voros
November 23, 2004: "To Acedia" by Daniel Tobin
November 22, 2004: "Close Quarters" by Cathryn Essinger
September 25, 2004: "Dry Brush Painting of Winter Crows" by Barry Sternlieb
September 23, 2004: "James McNeill Whistler at St. Ives, 1883" by Floyd Skloot
September 22, 2004: "Keep and Give Away" by Susan Meyers
September 21, 2004: "The Wife of Job" by Morri Creech
September 20, 2004: "Indian River Inlet" by Fleda Brown
March 10, 2004: "See! I Will Not Forget You. I Have Carved You on the Palm of My Hand." by Thomas Reiter
March 9, 2004: "Mary Rockwell Talks to Her Son in the Hospital after He's Been Stabbed During a Fencing Lesson" by Julianna Baggott
August 20, 2003: "Water Rising" by Fleda Brown
August 19, 2003: "Neither the Season, nor the Place" by Susan Meyers
August 18, 2003: "Revival" by Lynn Powell
June 7, 2003: "The Reliquary" by Ann Townsend
June 5, 2003: "Hieronymus and the Lion" by Maurya Simon
June 3, 2003: "Pink Salmon" by Cecily Parks
May 1, 2003: "Heron" by John Drury
April 29, 2003: "For the Fog Horn When There Is No Fog" by Sarah Hannah
December 30, 2002: "Brains" by Rodney Jones
December 16, 2002: Heaven by Natasha Saje
September 9, 2002: "My Emotions Are Like Fish" by John Brehm
Support Verse Daily
Sponsor Verse Daily!
Home Archives Web Monthly Features About Verse Daily FAQs Submit to Verse Daily Publications Noted & Received
Copyright © 2002, 2003, 2004, 2005, 2006 Verse Daily All Rights Reserved