®

Today's poem is "Boys"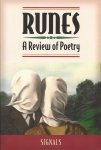 from Runes
Bill Bly
's poems and stories have appeared in 5 AM, Amelia, American Poetry Anthology, Antigonish Review, Encore, Explorations '95, MacGuffin, Runes, Yahoo! Internet Life, and Zone 3. Articles and reviews have appeared in Barron's Book Notes, sigWEB Newsletter, Books & Religion, Didaskalia, TDR, Tekka, and Trinity News. He has taught writing at New York University, Fordham University, and Wagner College, where he ran the Writing Program.
About Runes:
Poets in this issue: Chris Abani, Marjotie Agosin, David Alpaugh, Nathalie Anderson, Charles Atkinson, Tom Babayan, Tony Barnstone, Polina Barskova, Marjorie Becker, Dan Bellm, M.J. Bender, Margo Berdeshevsky, Chana Bloch, Stephen Bluestone, Bill Bly, Dulcy Brainard, Clifford Browder, Andrea Hollander Budy, Beith Burton, Bill Carpenter, Kenneth Chamlee, Tom Chandler, Julia Connor, Julie Cooper-Fratrik, Jack Cooper, Patty Crane, Ruth Daigon, Sharon Dolin, Lonnie Hull DuPont, Terry Ehret, Karl Elder, Peter Everwine, Robert Faguet, CB Follett, Alice Friman, Sarah J. Gardner, Rafael Jesus Gonzalez, Ben Greer, Anne Guzzardi, Annalynn Hammond, Brenda Hillman, Laura Horn, Janet Jennings, Quincy Scott Jones, Richard Jones, Kasey Jueds, Lisa Katz, Shirley Kaufman, Sally Rosen Kindred, David Kirby, Michael Kosaka, Deborah Kroman, Bonnie Kwong, Steve Lautermilch, Donald Lev, Philip Levine, Jane Lipman, Barbara Mahone, Sandra Cohen Margulius, Fran Markover, Robert Aquinas McNally, Stephanie Mendel, W.S. Merwin, Jeff Miles, Agi Mishol, Wendy Mnookin, Matt Morris, Laura Rocha Nakazawa, Jim Natal, Gunilla Norris, Susan North, J. O'Nym, Candace Pearson, Michelle Penn, John Pursley III, Anna Rabinowitz, Elizabeth Rees, Donald Revell, PB Rippey, Katrina Roberts, Pattiann Rogers, Carly Sachs, C. David Scronce, Wonchul Shin, Anis Shivani, Gary Short, John Oliver Simon, Scott Slovic, David St. John, Steven J. Stewart, Peter Stillman, Susan Terris, F. Richard Thomas, Susan Thomas, Lynne Thompson, J. C. Todd, Lynn Trombetta, Elizabeth Klise von Zerneck, George Wallace, Michael Waters, Mike White, J. D. Whitney, Eleanor Wilner, Fredrick Zydek
Subscription: 1 year, $12
RUNES, A Review of Poetry * Arctos Press * P.O. Box 401, Sausalito, CA 94966-0401
Editors: CB Follett and Susan Terris

Other poems from Runes in Verse Daily:
February 28, 2005: "The Sleigh" by Molly Brodak
February 25, 2005: "House Fire" by Rita Dove
October 15, 2002: "The Dead" by Ellery J. Akers
Support Verse Daily
Sponsor Verse Daily!
Home Archives Web Monthly Features About Verse Daily FAQs Submit to Verse Daily Publications Noted & Received
Copyright © 2002, 2003, 2004, 2005, 2006 Verse Daily All Rights Reserved