®

Today's poem is "The Fireman and His Wife"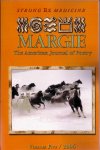 from Margie
Alice Friman
's latest poetry collection is The Book of the Rotten Daughter (BkMk Press, 2006). She has new work in Gettysburg Review, Shenandoah, Georgia Review, Boulevard, and others. Her last book, Zoo (University of Arkansas Press), won the Ezra Pound Poetry Award from Truman State University and the Sheila Motton Prize from the New England Poetry Club. She lives in Georgia, where she is poetry editor of Arts & Letters.
Other poems by Alice Friman in Verse Daily:
April 13, 2006: "Dust" " The lawn rolled back like a rug..."
August 22, 2002: "The Exile" "A woman takes the same walk / each afternoon...."
About Margie:
Poets in this issue: Jason Abbate, Kim Addonizio, Liz Ahl, John Alexanderson, Dick Allen, Maureen Alsop, Scott W. Alten, Christopher Ankney, Philip Appleman, Joshua Auerbach, Barry Ballard, Hadara Bar-Nadav, Walter Bargen, Laurel Bastian, Francesca Bell, Helena Bell, Michael Berry, Kristin Bock, Emma Bolden, Jan Bottiglieri, Victoria Boynton, Kate Braverman, Gaylord Brewer, Deborah Brown, E.G. Burrows, Sarah Byker James, Richard Cecil, Carol Clark Williams, David Clewell, Bruce Cohen, Carole Cohen, Marc Cohen, Rebecca Cook, Peter Cooley, Justin Courter, Sharon Cumberland, Kwame Dawes, Deborah A. Denicola, Jeannine Dobbs, Mike Dockins, Jill Drumm, Jamey Dunham, Arlene Eager, Rebecca Ebersole Kasparek, Susan Elbe, Dana Elkun, Alan Elyshevitz, Edward Field, Farrah Field, Karen Fish, Keith Flynn, Nancy Flynn, Richard Foerster, Matthew Freeman, Alice Friman, Bridget Gage-Dixon, Kathryn Gahl, Ross Gay, Stephen Gibson, Dana Gioia, Laurence Goldstein, Julia Grawemeyer, Chris Green, Jennifer Gresham, Marylen Grigas, Michael Gushue, Joseph Heithaus, Fanny Howe, Jona Jacobson, Mark Jarman, Troy Jollimore, Robert C. Jones, Jacqueline Jones Lamon, Allison Joseph, Rebecca Kaiser Gibson, Marian Kaplun Shapiro, Jeanette Karhi, Elizabeth Kay, Jesse Lee Kercheval, Garnett Kilberg Cohen, Mary Chi-Whi Kim, Sandra Kohler, Stephen Kopel, Vera Kroms, Dale M. Kushner, Jane Lane, Elizabeth Langemak, Nick Lantz, Julie Larios, Stephanie Lenox, Laurence Lieberman, Sandra Lim, Rachel Lindley, Sandy Longhorn, Thomas Lux, Stephen Malin, Seretta Martin, Sarah Mayville, Erica Mcininch, Robin Merrill, Georganna Millman, David Mills, Fred Moramarco, Mimi Moriarty, Tomas Q. Morin, Elisabeth Murawski, Robert Nazarene, Dustin Nightingale, Jude Nutter, Richard O'connell, Kasey Ozymy, Gloria Parker, Steve Parlato, Chad Parmenter, Ricardo Pau-Losa, Nancy K. Pearson, Lucia Perillo, Ellen Perless, Joyce Peseroff, Jennifer M. Pierson, Laura Polley, Wanda S. Praisner, Claudia Putnam, Linda Richard, Allison Riddles, Len Roberts, David Robinson, Pattiann Rogers, Jay Rogoff, Jerome Rothenberg, Michele Ruby, Hayden Saunier, Robert Sawyer, Esty Schachter, Margot Schilpp, Emily Scudder, Lee Sharkey, Paul Shepherd, Debra Shirley, Anis Shivani, Joan I. Siegel, Louis Simpson, Bruce Smith, Ronald F. Smits, Daniel Speers, Jane Springer, Maura Stanton, Lee Stern, Miranda Strichartz Evans, Joanne Tangorra, Brian Taylor, Susan Thomas, Chrys Tobey, Jim Tolan, Rodney Torreson, Twixt, Kathleen Tyler, Abram Valdez, Toni Van Deusen, Sally Van Doren, Nance Van Winckel, Donna Vincenti, D ) Thomas Virtue, David Wagoner, Peter Waldor, Daneen Wardrop, Charles Harper Webb, Kathleen Weihe, Mike White, Ian Williams, Eliot Khalil Wilson, Jonah Winter, Yim Tan Wong, David Woo, Theodore Worozbyt, Franz Wright, Robert Wrigley, Vincent Zompa, Fredrick Zydek
Subscription: 1 year (1 issue), $13.95
Margie * PO Box 250 * Chesterfield, MO. 63006-0250
Editor: Robert Nazarene

Other poems from The American Poetry Journal in Verse Daily:
February 5, 2006: "The Fireman and His Wifre" by Susan Elbe
February 1, 2006: "Judges" by Larissa Szporluk
October 31, 2004: "Apeland" by Matthew Ladd
October 30, 2004: "Madness in the Form of Birds" by George Looney
October 29, 2004: "Not Even Doublewide" by A. Loudermilk
October 26, 2004: "The Waiting" by Stephen Dunn
December 15, 2003: "Soldiering" by Daniel J. Langton
November 26, 2003: from "The Startled Heart" by Eve Joseph
Support Verse Daily
Sponsor Verse Daily!
Home Archives Web Monthly Features About Verse Daily FAQs Submit to Verse Daily Publications Noted & Received
Copyright © 2002, 2003, 2004, 2005, 2006 Verse Daily All Rights Reserved