®

Today's poem is "Palinurus"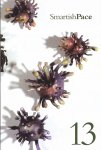 from Smartish Pace
A.E. Stallings
has a second poetry collection, Hapax, just out from Northwestern/TriQuarterly.
Other poems by A.E. Stallings in Verse Daily:
April 14, 2005: "On the Nearest pass of Mars in 60,000 Years" ""War or Strife—yes, you were always painted..."
February 8, 2005: "Ultrasound" "What butterfly..."
December 27, 2004: "The Compost Heap" "It waxed with autumn, when the leaves..."
December 5, 2004: "Explaining an Affinity for Bats" "That they are only glimpsed in silhouette..."
April 14, 2004: "Lilith" "In the beginning, everything was..."
October 31, 2003: "A Bone to Pick with You" "It's time to take the skeleton out of the closet..."
December 9, 2002: Eurydice Reveals Her Strength "Dying is the easy part...."
November 27, 2002: The Wife of the Man of Many Wiles "Believe what you want to. Believe that I wove..."
About Smartish Pace:
Poets in this issue: Tony Hoagland, Ron McFarland, Kathleen Rooney, Liam Rector, Lynnell Edwards, Suzanne Roberts, Nicole Pekarske, Charles Harper Webb, Adam Chiles, Scott Cairns, C.P. Cavafy, Christopher Howell, Shara McCallum, A.E. Stallings, Peter Kline, Susan Howe, Norman Finkelstein, Dennis Saleh, Nicole Cooley, Medbh McGuckian, Gaylord Brewer, Chad Parmenter, Timothy Liu, Gary Fincke, Mary Gilliand, Alison Townsend, R.M. Ryan, Luisa A. Igloria, Pierre de Ronsard, Sally Smits, Vandana Khanna, David Keplinger, Susan Browne, D.H. Tracy, Susan Browne, Mark DeFoe, Mark Kirby, Cheryl Loetscher, Marilyn L. Taylor, Carey McHugh, JoAnn Balingit, Cynthia Schwartzberg Edlow, Suzan Lustig, Maureen McQuerry
Subscription: 1 year (2 issues), $20
Smartish Pace * P.O. Box 22161 * Baltimore, MD 21203
Editor: Stephen Reichert

Other poems from Smartish Pace in Verse Daily:
September 22, 2005: "Capturing a Plum Blossom" by John Pursley III
September 21, 2005: "eBay Sonnets" Denise Duhamel
September 19, 2005: "Would-Be Pastoral Elegy" Gail White
February 4, 2005: "Church" by Megan Snyder-Camp
February 3, 2005: "Translation" by Robert Morgan
February 2, 2005: "Second Bearing, 1919" by Claudia Emerson
January 31, 2005: "Heat Lightning" by Ted Kooser
August 30, 2004: "Without Mythologies" by Henry Weinfield
August 29, 2004: "Fifty-Fifty" by Patricia Clark
August 23, 2004: "Olivia Between Acts" by Stuart Lishan
August 21, 2004: "Garden" by Theodore Worozbyt
January 8, 2004: "Missouri River" by Lawrence Revard
January 7, 2004: "Pontoon Pantoum #505" by Kathy Fagan
January 5, 2004: "The Fool Card" by Annie Finch
July 30, 2003: "The Fruit Thereof" by William Wenthe
July 29, 2003: "Slow Leak" by Ellen Doré Watson
July 28, 2003: "Poor Excuses" by Andi Werblin
December 1, 2002: Squirrel Hunting by Edmund August
November 30, 2002: 49 Views of Childhood by Bin Ramke
November 28, 2002: The Birdhouse by Greg Williamson
November 26, 2002: A Letter from Mama (1916-1999) by Marilyn Nelson
Support Verse Daily
Sponsor Verse Daily!
Home Archives Web Monthly Features About Verse Daily FAQs Submit to Verse Daily Publications Noted & Received
Copyright © 2002, 2003, 2004, 2005, 2006 Verse Daily All Rights Reserved