®

Today's poem is "And the Wound Says"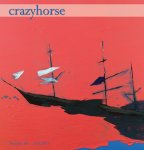 from Crazyhorse
Nance Van Winckel
's fourth collection of poetry is Beside Ourselves (Miami University Press, 2003). She's received two National Endowment for the Arts Poetry Fellowships and has new poems in The American Poetry Review, The Gettysburg Review, Ploughshares, New Letters, The Massachusetts Review, and Poetry. She's also published three books of short fiction, most recently Curtain Creek Farm (Persea Books, 2000), and is the recipient of a 2005 Christopher Isherwood Fellowship. She teaches in the MFA programs at Eastern Washington University and Vermont College.
Other poems by Nance Van Winckel in Verse Daily:
June 24, 2005: "When the River Comes Toward Me" "it comes with whatever it's..."
January 12, 2005: "Awaiting the Return Ferry" "Ghostly, echoes of old guffaws from a crowd..."
July 13, 2004: "Simone Weil at the Renault Factory (1935)" "A thread in a line of threads, she stands..."
January 9, 2004: "Let me Remind You You Are Still Under Oath" "Out of marsh out of the bronchial..."
February 3, 2003: "Passing Through the Shadows Of Great Buildings" "The beggar in plaid blankets wanted to kiss my hand..."
January 15, 2003: "Cautionary Tale" "The funny bearded goat..."
January 6, 2003: "Bid Me Be the Bird" "May the lower, liquid half of the world..."
About Crazyhorse:
Poets in this issue: Nicky Beer, Robert Bense, Jennie Berner, Paula Bohince, Katarzyna Borun-Jagodzinska, Karen Kovacik, Rick Bursky, Michael Chitwood, A. V. Christie, Peter Cooley, Mike Dockins, Lisa Fishman, Chris Forhan, Cameron K. Gearen, Olena Kalytiak Davis, Timothy Liu, James McKean, Susan Meyers, Mary Molinary, Debra Nystrom, Jennie Panchy, Bryan Penberthy, Eric Rawson, Young Smith, Katherine Soniat, Deborah Tall, Alpay Ulku, Nance Van Winckel, David Wagoner, Daneen Wardrop, Theodore Worozbyt
Subscription: 1 year (2 issues), $15
Crazyhorse * Department of English * College of Charleston * 66 George St. * Charleston, SC 29424
Editor: Carol Ann Davis & Garrett Doherty

Other poems from Crazyhorse in Verse Daily:
December 18, 2005: "The Elephant's Graveyard" by David Wagoner
May 19, 2005: "Levels" Alexandra Teague
May 18, 2005: "Poem with No Moral at the End" Charlie Clark
November 28, 2004: "Spring and Winter, Coeval" by Charles M. Israel, Jr.
November 26, 2004: "Botanists Who Feel Excluded Rejoice" by Anthony Lacavaro
May 23, 2004: "Template" by A. V. Christie
May 21, 2004: "Is More Than" by Susan Hutton
May 17, 2004: "Solar Ice" by Paul Mariani
December 12, 2003: "East Dakota" by Edward Haworth Hoeppner
December 4, 2003: "May Suspensions" by James McCorkle
November 27, 2003: "Reservoir" by Doug Sanders
May 14, 2003: "Owls in the City Hills" by D. R. Goodman
May 13, 2003: "The Sightstop" by Bill Knott
January 26, 2003: "To His Mistress Going to Bed" by Nathan Hoks
January 21, 2003: "The Teller is the Only Survivor of the Fairy-Tale Ending" by Mark Yakich
January 20, 2003: "Cicadas And" by Nathan Hoks
Support Verse Daily
Sponsor Verse Daily!
Home Archives Web Monthly Features About Verse Daily FAQs Submit to Verse Daily Publications Noted & Received
Copyright © 2002, 2003, 2004, 2005 Verse Daily All Rights Reserved