®

Today's poem is "Iago, the Poet"
from In a Fine Frenzy - edited by David Starkey and Paul J. Willis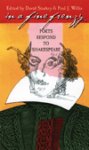 J. P. Dancing Bear's
have appeared in Atlanta Review, Seattle Review, and Permafrost. He is editor in chief of the American Poetry Journal and host of Out of Our Minds, a weekly poetry program on public radio station KKUP in Santa Clara, California. He is the winner of the 2002 Slipstream Press Poetry Prize for his chapbook What Language; his full length collection is Billy Last Crow (2004).
Other poems by J. P. Dancing Bear in Verse Daily:

February 14, 2005: "Sky of Sleep" "Sometimes she is a tree..."
August 19, 2004: "Gacela of Animal Wisdom" "Apollo, Apollo, when will you leave the animals alone?..."
August 8, 2003: "Island Myths" by "We were once two islands..."
June 14, 2003: "Persephone at the Farmer's Market" "Even now, I cannot lose the memory of scent...."
May 3, 2003: "Departing Phoenix" "I swallow bird songs that do not resurface..."
October 10, 2002: "The Lonelier Moon" "Armstrong has seen it / from its sister...."
About In a Fine Frenzy - edited by David Starkey and Paul J. Willis:
"David Starkey and Paul Willis's idea of putting together a collection of poems responding to the works of Shakespeare is inspired. No book could better measure the impact of Shakespeare's vital connection with our contemporary world of poetry. This is the ultimate tribute, that he lives in the words and images of Peter Cooley, Jim Applewhite, Susan Terris, Jeanne Murray Walker, and so many more. Shakespeare has no biological descendants today. These are his children now."
—David Bevington
Authors in this anthology include: Sylvia Adams, Gilbert Allen, James Applewhite, Rachel Beck, Marvin Bell, Julian Benick, D. C. Berry, David Case, Charles Clifton, Nan Cohen, Jack Conway, Peter Cooley, Stephen Corey, Alfred Corn, Sheryl Cornett, Katherine Cottle, Peter Cummings, J. P. Dancing Bear, Chad Davidson, Kirsten Dieking, Elon G. Eidenier, Sandy Feinstein, Annie Finch, Alice Friman, Carmen Germain, William Greenway, Kevin Griffith, R. S. Gwynn, H. Plamer Hall, Leilani Hall, Richard Hedderman, Eva Hooker, Dan Johnson, Allison Joseph, Kirsten Kashock, J. Kates, Jennifer Hill Kaucher, Melanie Kenny, Kathleen Kirk, Ron Koertge, Michelle Labarre, Danusha Lameris de Garza, Ann Lauinger, Deborah Leiter, Diane Lockward, Kathleen Lynch, Marjorie Maddox, Mary Makoske, Adrianne Marcus, Steven Marx, Lee McCarthy, Peter Meinke, Judith H. Montgomery, Janice Townley Moore, Harryette Mullen, J. B. Mulligan, Leonard Nathan, David Oliveira, Lee Patton, Jim Peterson, Ken Pobo, Arthur Powers, Joan Raymund, Zack Rogow, Edwin Romond, Tania Runyan, Sherod Santos, Reginald Shepherd, Maurya Simon, Floyd Skloot, Ellen McGrath Smith, J. D. Smith, Barry Spacks, William Stafford, Brian Staveley, Michael B. Stillman, Leon Stokesbury, Katherine Swiggart, Chris Terrio, Susan Terris, Lee Upton, Ryan G. Van Cleave, Jeanne Murray Walker, BJ Ward, William John Watkins, Charles Harper Webb, Jackson Wheeler, Gail White, Daniel Williams, Cecilia Woloch, David Wright, Tracy S. Youngblom
Support Verse Daily
Sponsor Verse Daily!
Home Archives Web Monthly Features About Verse Daily FAQs Submit to Verse Daily Publications Noted & Received
Copyright © 2002, 2003, 2004, 2005 Verse Daily All Rights Reserved