®

Today's poem is "Heavy Breather Zoo"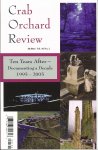 from Crab Orchard Review
Jeffrey McDaniel
is the author of three books of poetry, most recently The Splinter Factory. He teaches at Sarah Lawrence College.
Other poems by Jeffrey McDaniel in Verse Daily:
February 5, 2003: "The Benjamin Franklin of Monogamy" "Reminiscing in the drizzle of Portland, I notice..."
About Crab Orchard Review:
Poets in this issue: Kelli Russell Agodon, Liz Ahl, Dilruba Ahmed, Maggie Anderson, Julianna Baggott, Robin Behn, Denise Bergman, Eleanor Berry, Remica L. Bingham, S. Beth Bishop, Fleada Brown, Stacey Lynn Brown, Anthony Butts, Kevin Coval, Melissa Frederick, Nola Garrett, Susan Grimm, Cindy Williams Gutierrez, Diane Holland, Kevin Honold, Annemarie Kattan Jacir, Roy Jacobstein, Lesley Jenike, Sandra Kohler, Aviya Kushner, Melissa Kwasny, Jacqueline Jones LaMon, Jeanne Larsen, Ed Bok Lee, Stephanie Lenox, Barbara Leon, Timothy Liu, Dawn Lonsinger, Raymond Luczak, Susan Ludvigson, Peter Marcus, Frank Matagrano, Jeffrey McDaniel, Shannon Marquez McGuire, Erika Meitner, Joseph Millar, Jonathan Moody, Carolyn Moore, Deborah Moreno, John Morgan, Arlene Naganawa, Lee Newton, Sharon Olson, Ed Pavlic, Candace Pearson, Cynthia Reeves, Cherene Sherrard, Beth Simon, Susan Sink, Alison Townsend, Brian Turner, Ryan G. Van Cleave, Elizabeth Klise von Zerneck, Davi Walders, Michael Waters, Stefi Weisburd, Gary J. Whitehead
Subscription: 1 year (2 issues), $15
Crab Orchard Review * Department of English * Faner Hall 2380 - Mail Code 4503 * Southern Illinois University Carbondale * 1000 Faner Drive * Carbondale, IL 62901
Editor & Poetry Editor: Allison Joseph

Other poems from Crab Orchard Review in Verse Daily:
December 2, 2005: "Under The Eaves" Fleda Brown
July 10, 2005: "The New Retina" by Christina Pugh
July 6, 2005: "Goldfinch After Rain" Elizabeth Harvell
September 19, 2004: "The Visitors" by Sylvia Curbelo
April 18, 2004: "The Ghost of Weather" by Bruce Bond
April 2, 2004: "Oh! On an April Morning" by Neil Shepard
March 31, 2004: "Interior Lighting" by Elton Glaser
July 5, 2003: "King Sugar" by Lorna Knowles Blake
July 3, 2003: "A Simple Campsong" by Lucia Perillo
June 30, 2003: "Tangerine" by Ruth L. Schwartz
February 12, 2003: "Square du Temple" by Marilyn Hacker
February 6, 2003: "Late-Talking Children" by Joanna Smith Rakoff
February 5, 2003: "The Benjamin Franklin of Monogamy" by Jeffrey McDaniel
August 15, 2002: "The Last Words of Alice the Goon" by Paul Guest
August 13, 2002: "Wile E. Coyote Attains Nirvana" by David Hernandez
August 12, 2002: "Interlude: Still Still" by Robin Behn
Support Verse Daily
Sponsor Verse Daily!
Home Archives Web Monthly Features About Verse Daily FAQs Submit to Verse Daily Publications Noted & Received
Copyright © 2002, 2003, 2004, 2005 Verse Daily All Rights Reserved