®

Today's poem is "After a Century of Fire-Suppression Policy"
from The Constellation of Extinct Stars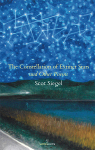 Scot Siegel
is the author of three full-length books and two chapbooks of poetry, including Thousands Flee California Wildflowers (Salmon Poetry, 2012). He has been awarded fellowship-residencies with Playa at Summer Lake and has received awards and commendations from Nimrod International, Aesthetica (UK), the Oregon State Library, and the Oregon Poetry Association. Siegel lives in Oregon where he works as a town planner.
Other poems by Scot Siegel in Verse Daily:
November 23, 2012: "Santa Cruz Carney Girl" "I am not a stereotype..."
Books by Scot Siegel:

Other poems on the web by Scot Siegel:
Three poems
Three poems
"Santa Fe, Fiesta"
Four poems
Two poems
"The Constellation of Extinct Stars"
"What My Father-in-Law Says"
"We Are All On the Edge of Something"
Four poems
Two poems
"Helen Agonistes"
Scot Siegel's Website.
About The Constellation of Extinct Stars:
"In this book, Scot Siegel's poems have an ambidextrous quality, ready to pivot deftly from history to imagined history, from biography to prophecy. His is a voice rinsed clear by desert winds, ready to enter any story and make it first person — for the writer, for the reader. He can claim at one point 'no pretense...no history, no trajectory...,' and yet his imagination honors history, invents history, and makes history matter, gives it important work to do. You will be disoriented from accustomed ways of thinking, and gain new ways of being: 'I want to go down in history and bring back a future worth remembering.' These poems will convey you to resonant places in your new life."
—Kim Stafford
"With grace, skill, and compassion, Scot Siegel's poems create a specificity of time and place that rises above the specific. Whether he writes of a young school teacher back in 1928 Summer Lake or a wolf traveling unseen across all of present-day Oregon, the poet guides us to those sad and beautiful places deep in the human heart."
—Penelope Scambly Schott
"Scot Siegel has inherited the tradition of William Stafford so deeply and profoundly he has remade it afresh. From strangers to friends, he gathers the proofs of how we think we understand our lives and deeply observes the world's ecologies of landscape and love. Here are poems that express a vibrational wonder for the aromas and textures of the days and nights we pass through. And just as Scot Siegel praises the good bones of a good home, we too admire the good bones of the good poetry he offers us, over and again, as a deeply clarifying solace."
—David Biespiel
"Scot Siegel's poetry very much reminds me of the poetry of Stephen Crane, the author of The Red Badge of Courage. This is to say that his poetry is precise, elliptical, vernacular, dramatic, anchored in narrative and—most important of all!—understandable to readers such as myself who like to understand what they are reading rather than be intimidated by obscurity."
—Kevin Starr
Support Verse Daily
Sponsor Verse Daily!
Home Archives
Copyright © 2002-2016 Verse Daily All Rights Reserved