®

Today's poem is "To You Your Name"
from Her Faithfulness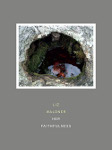 Liz Waldner
grew up in rural Mississippi and earned a BA in mathematics and philosophy at St. John's College and an MFA at the Iowa Writer's Workshop. Her first book of poetry, HOMING DEVICES> (O Books, 1998), came after an 18-year silence; since then, Waldner has published prolifically. Her recent books include A Point Is That Which Has No Part (2000), which won both the Iowa Poetry Prize and the James Laughlin Award, Self and Simulacra (2001), Dark Would (the missing person) (2002), TRUST (Cleveland State University Poetry Center, 2009), Play (Lightful Press, 2009), HER FAITHFULNESS (Miami University Press, 2016), and LITTLE HOUSE, BIG HOUSE (Noemi Press, 2016).
Other poems by Liz Waldner in Verse Daily:
March 25, 2009: "The Uses of Things" "When the stove clock hands sprawl..."
August 9, 2004: "Saving the Appearances" "A metrics of mammals..."
July 27, 2004: "Yes and No" "Exactly the problem is..."
July 8, 2004: "Ways, Truths, Lights: Leaves of Glass" "The sun in wan puddles, pieces..."
Books by Liz Waldner:

Other poems on the web by Liz Waldner:
Eight poems
Six poems
Two poems
Four poems
"Self Portrait as Pencil on Placemat"
Liz Waldner According to Wikipedia.
Liz Waldner on Twitter.
About Her Faithfulness:
"These playful meditations on sex, passion and, above all, the desire for a home, belie the intensity animating them. When Waldner names the 'god' she wants 'she,' it's easy to overlook the erased option—'goddess' —that implies the co-existence of a male god. Waldner's position is clear: the only singular god is she. And she, the only 'Mercy' worth wanting, is the 'good.' Her Faithfulness, the story of Waldner's peripatetic life, rewards a reading, to say nothing of her readers, faithful to the end."
—Tyrone Williams
"The difference between looking anywhere you can and looking anywhere you want reasons the weather of these exquisite poems, inside which malady, melody, severity, doubt, and pleasure approach and pass to be claimed by a voice too beautiful to ever stop listening for. Liz Waldner may be here to show us how joy made sad gets to keep being joy, how to be beheld by meanness and not be it. This is the work of a vital, profuse mind undeniably at home in poetry."
—Kathleen Peirce
"Liz Waldner is a poet of high wit, high intelligence, and great musical rigor—she may be our Postmodern Metaphysical poet plummeting deeper and deeper with each book into the questions of self, sexuality, and knowing."
—Gillian Conoley
Support Verse Daily
Sponsor Verse Daily!
Home Archives
Copyright © 2002-2016 Verse Daily All Rights Reserved