®

Today's poem is "Do you think one should always follow one's heart?"
from See You Soon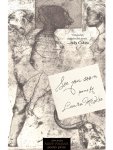 Laura McKee
was born in California and grew up in Oregon and Utah. She holds an MFA from the University of Washington. In 2009, her book Uttermost Paradise Place was selected by Claudia Keelan for the Honickman First Book prize. She lives in Seattle, Washington.
Books by Laura McKee:

About See You Soon:
"Delightfully unpredictable poems full of fresh turns and local surprises in which irony and smarts blend agreeably with credible feeling."
—Billy Collins
"Laura McKee's poems, 'like a difficult subject,' stand at the border of language and explore an exhilarating psychic and emotional landscape. Intelligent, funny, and philosophical, these poems dazzle, unsettle, and leave us feeling 'not quite of this world.'"
—Jennifer Moss
"There is a strange sense of bounty in this book, the recognition that one could not have delineated such luminous dimensions of experience without engaging in the process of querying consciousness itself. 'What other animal is so beside itself?' these poems ask. What other poet besides Laura McKee is so filled with humility, humor, and wry, authentic insight in the process?"
—Suzanne Bottelli
"'This is a basic world / we are unfolding,' Laura McKee writes in the opening poem of See You Soon, and it is in her skillful hands that the world shifts, dreamlike, re-creating itself page after page, each poem a delight of thought and movement. To discover McKee's poetry is to learn the habits and calls of a new species, to be entranced by the way it walks and preens: 'You barely know where you are / going as you creep back out to sea fixed up in my beautiful language.' See You Soon is a lovely journey."
—Erin Malone
Support Verse Daily
Sponsor Verse Daily!
Home Archives
Copyright © 2002-2016 Verse Daily All Rights Reserved