®

Today's poem is "Mercy: Rivet Girl Listen To—"
from Jersey Mercy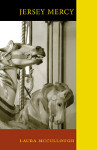 Laura McCullough
's newest book of poems is Jersey Mercy (Black Lawrence Press 2016). Her other collections include Rigger Death & Hoist Another (BLP), Panic (Alice James Books), Speech Acts (BLP), and What Men Want (XOXOX Press). She is the editor of two anthologies, A Sense of Regard: Essays on Poetry and Race (University of Georgia Press) and The Room and the World: Essays on Stephen Dunn (Syracuse University Press). Her work has appeared in Best American Poetry, Georgia Review, American Poetry Review, The Writer's Chronicle, Guernica, The Southern Review, Gulf Coast, Pank, Hotel America, Prairie Schooner, and many other journals and magazines. She has had scholarships or fellowships to the Bread Loaf Writers Conference, the Nebraska Summer Writers Conference, Sewanee Writers Conference, the Vermont Studio Center, the Virginia Center for the Arts, the Betsy House, Marble House, and has been a Dodge Poetry Festival poet, a Florida Writers Circuit poet, and a Decatur Book Festival poet. She has had two NJ State Arts Council Fellowships, one in poetry and one in prose. She teaches full time at Brookdale Community College in NJ where she founded the Creative Writing Program and is on the faculty of the Sierra Nevada low-res MFA and has taught for Ramapo College and Stockton University. She is the founding editor of Mead: the Magazine of Literature and Libations.
Other poems by Laura McCullough in Verse Daily:
February 5, 2014: "There Were Only Dandelions" "And the boy...."
September 10, 2008: "At the Jumps" "Boys bury the junk of the town..."
April 23, 2006: "We Argue about Regret" " I say, "You could have been..."
Books by Laura McCullough:

Other poems on the web by Laura McCullough:
Three poems
Two poems
Two poems
"Bodies That Allow"
"Cunt Spectacular"
Six poems
"Animal Engine"
"Come to the Beach / And Get On with It"
Two poems
Three poems
Two poems
Three poems
"Molecularity"
Laura McCullough's Website.
Laura McCullough According to Wikipedia.
Laura McCullough on Twitter.
About Jersey Mercy:
"Set along the Jersey shore, before and after Hurricane Sandy, these narratives vividly capture the lives and speech of Jersey denizens like Mercy, a young waitresses, and Tino, a boardwalk musician. Piers, racetracks, and bars endure natural disasters. Mercy, too, endures. McCullough's craft is striking. Her portraits are empathic, alive. The lines are drenched with music. Words surge, crash precisely on the page. Jersey Mercy is a gorgeous interrogation of language and landscape."
—Eduardo C. Corral
"Jersey—with its rollicking characters, wide-aloud language and mystifying local rituals—is a notoriously difficult smidgen of culture to capture. Laura McCullough's chronicle of Mercy and her riotous adventures nails down Jersey's elusive spirit once and for all. These poems are hilarious, poignant, and invaluable for the glimpse they give us of the hangouts and humanity in the state America simply couldn't live without."
—Patricia Smith
"Boardwalk country, Bruce country, country of racetrack and abandoned carousel—with rhythmic pizzazz, McCullough spins the salt air of the Jersey Shore into the poems of Jersey Mercy. They shake and rattle and plunge forward, they pump fists and sweat, yet underneath all their raucous fluency they yearn and love and hurt so good like the best three-minute radio songs. Here's another American kid, Mercy, doing the best she can. Turning these pages is like putting dime after dime into the jukebox."
—Michael Waters
Support Verse Daily
Sponsor Verse Daily!
Home Archives
Copyright © 2002-2016 Verse Daily All Rights Reserved