®

Today's poem is "Wave—Particle"
from Warp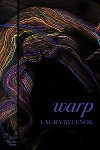 Laura Bylenok
is from Seattle and holds degrees from the University of Washington and the Writing Seminars at Johns Hopkins University. Her chapbook a/0 was published by New Michigan Press in 2014, and her poetry can be found in Pleiades, North American Review, Guernica, Cimarron Review, and West Branch, among other journals. She is currently a Vice Presidential Fellow at the University of Utah, where she is pursuing a PhD in creative writing. She lives in Salt Lake City.
Books by Laura Bylenok:

Other poems on the web by Laura Bylenok:
"Luz"
Two poems
"Elegy with Snow"
"Strange Loop"
Two poems
Laura Bylenok's Website.
About Warp:
"Warp is a distinguished book of poems that combines imaginative verve with longing to create a rich tapestry across space and time. With a fresh command of language, demonstrated in poems that harness the vocabulary and structures of science, as well as in poems that deftly handle the more traditional sonnet and villanelle, Laura Bylenok is writing memorable lyric poetry."
—Arthur Sze
"What a brilliant first book this is. In Warp, Laura Bylenok makes an unending loop between word and world, art and science. Each of these beautifully woven poems is also a sound game played between writer and reader. High wit and deep feeling make this poet's debut one of the most exciting I've seen."
—Mary Jo Salter
"You could call Laura Bylenok's Warp an extended meditation on a word, but during the course of her remarkable investigation she shows us that her word, perhaps like any other, is all but singular. To warp word into words, even in the act of meditation, is to engage the entire multiplicity of language, all its gorgeous meanderings and torques. Bylenok is an inveterate follower of language into wherever it leads—play, tragedy, time—and her own warpings, transmutations, and glorious reinventions ( 'swoon' into 'swerve'; 'aurora' into 'ouroboros') show us that if language is the perpetual lens of the poet, it is always turning us into new ideas. In these poems, play is the method, but play as serious pleasure. Bylenok shows us again and again how, in pressuring our language, we reshape ourselves and our deepest understanding of reality."
—Katharine Coles
Support Verse Daily
Sponsor Verse Daily!
Home Archives
Copyright © 2002-2016 Verse Daily All Rights Reserved