®

Today's poem is "This Is the Neighbor Kid Who Killed the Cat"
from The Self-Styled No-Child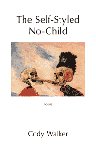 Cody Walker
is the author of Shuffle and Breakdown (Waywiser Press, 2008) and the co-editor of Alive at the Center: Contemporary Poems from the Pacific Northwest (Ooligan Press, 2013). His poems have appeared in The Yale Review, Parnassus, Slate, Poetry Northwest, The Hecht Prize Anthology, and The Best American Poetry (2007 and 2015); his essays have appeared online in The New Yorker and The Kenyon Review. He lives with his family in Ann Arbor, where he teaches English at the University of Michigan.
Other poems by Cody Walker in Verse Daily:
March 21, 2009: "Alcatraz, and Back" "All I'm saying is this guy, this showbiz..."
Books by Cody Walker:

Other poems on the web by Cody Walker:
Two poems
"Trades I Would Make"
Two poems
Eight poems
Three poems
Four poems
"Update"
Cody Walker According to Wikipedia.
About The Self-Styled No-Child:
"Move over Edward Lear, Lewis Carroll, Dr. Seuss, good old Anon, maybe even William Blake after how many pints of ale. Here's Cody Walker who declaims and bargains an 'icicle for a bicycle,' a 'vale of tears for ten good years.' Political, personal, this book is playful, pithy, outrageously out of style (omg-less rhyme galore!), this gathering a dark, endearing treasure made by accident and pure will. Beware: 'The LORD shall tickle thee with a feather duster, and boot thee with a tire iron, and goose thee with an actual goose.' Are these slippery inventions—'it all unravels'—really poetry? They come out of its ancient middle distance between wake and sleep and what the hell: they mean."
—Marianne Boruch
"In Cody Walker's The Self-Styled No-Child, the poet-father sings to his new baby (read 'Cradle Song' or 'Small Suite' for perfect little servings of delight), but his childlike playfulness has an internal source, too. The light verses in Walker's new collection often have dark edges to them (see 'The Garden' or 'We Hated Our Lives'), and his social and political satires are unflinching. Still, this word-wizard with a genius for rhyme reminds us of how irrepressibly joy remains."
—Mary Jo Salter
Support Verse Daily
Sponsor Verse Daily!
Home Archives
Copyright © 2002-2016 Verse Daily All Rights Reserved