®

Today's poem is "How to Refund Your Identity"
from Crevasse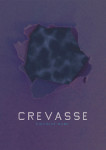 Nicholas Wong
received his MFA from City University of Hong Kong and has been a finalist for the New Letters Poetry Award and the Wabash Prize for Poetry. Described as a "firestarter" by Time Out: Hong Kong, he is on the teaching faculty of the Hong Kong Institute of Education.
Other poems by Nicholas Wong in Verse Daily:
Books by Nicholas Wong:

Other poems on the web by Nicholas Wong:
"The British Ambassador"
Four poems
Five poems
"I Love to be Your Witness"
Two poems
"Accentuation of R"
"A Room of One's Own"
"In Transit"
"Bilingualism"
"A Night in Room 928"
"Money in the Time of Cholera"
Nicholas Wong's Website.
About Crevasse:
"Strange as it is to live in a human body one wants language to give full rein to that strangeness. I am worried in Nicholas Wong's poems--as it should be--and I worry them, meaning I turn them over in my mind because I want less to understand them and more to be able to fit into them like odd garments. Wong is given to mad language, he ransacks the known, he's not concerned with my comfort, thank god; he only wants to lay me down some knowledge. And that he does I do believe. Crevasse is deep. I go wildly in."
—Kazim Ali
"It is especially refreshing to encounter a poet who is as equally adept at excavating the sources and shapes of sentiment and passion as he is at untangling the knotty business of thought and meaning in verse. In these poems of lyric grace and sharp intelligence, Nicholas Wong has written a bracing symphony to lonesomeness that is disarming, charming, and intellectually tough."
—Kwame Dawes
"The crevasses of Crevasse are geological and anatomical, but Nicholas Wong does not plumb their depths; instead, his openings stay with the edges and aftermaths of feeling. There is a sharpness to these finely witnessed portraits and self-portraits that cuts into the heart all the while invoking the contexts, aesthetic and political, that unsettle the meanings of his words. And these formations and deformations are wrought with so much clarity and such beautiful sounds; this is exciting poetry that teases us with what can and can't be written about the self, what binds the heart and what breaks it."
—Josephine Park
"'Either way, I guillotined my past,' writes Nicholas Wong in Crevasse, and it is with such conviction that these poems permission themselves into our psyche. They are unmistakable in their sense of trespass and discovery. They attempt large themes, negotiating the erotic with the social collective. They are citizens that both honor and refuse their republics. Wong writes through the body as a way of finding a new hierarchy for the way bodies are seen and valued. This is a book of seared seeking, a restlessness that opens, a poet 'carry[ing] a torch in broad daylight,' which is now, thankfully, in our hands."
—Ocean Vuong
Support Verse Daily
Sponsor Verse Daily!
Home Archives
Copyright © 2002-2015 Verse Daily All Rights Reserved