®

Today's poem is "Regretfully Yours"
from Mendeleev's Mandala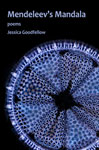 Jessica Goodfellow
has published one book, The Insomniac's Weather Report (Isobar Press, 2014), winner of the Three Candles Press First Book Prize (2011), and one chapbook, A Pilgrim's Guide to Chaos in the Heartland, winner of the Concrete Wolf Chapbook Competition (2006). Her work has appeared in Best New Poets and Verse Daily, and on NPR's The Writer's Almanac. Her awards include the Chad Walsh Poetry Prize from the Beloit Poetry Journal and the Linda Julian Essay Award and Sue Lile Inman Fiction Prize, both from the Emrys Foundation. Jessica has a graduate degree from Caltech, and currently works at a university in Japan.
Other poems by Jessica Goodfellow in Verse Daily:
July 8, 2011: "Navigating by the Light of a Minor Planet" "The trouble with belief in endlessness is..."
December 8, 2008: ": Shadow : Dwelling : " "Dwelling in a foreign land. Time is the only familiar..."
January 25, 2007: "Road Trip" " Because the horizon is not a number line..."
March 30, 2006: "What You See If You Use Water as a Mirror" " In Shinto, the eight elements..."
Books by Jessica Goodfellow:

Other poems on the web by Jessica Goodfellow:
Two poems
"Wakening"
"Search Party, Called Off"
"Fare"
Three poems
"Not Seeing"
"Crows, Reckoning"
": glass : trap :"
Four poems
"How to Find a Missing Father in a Town that Isn?t There"
": rules : wind :"
"November Nocturne"
"The Beach at Big Salt"
": Map : Glass : "
": Form : Shadow :"
"Poem for My Friends"
"In Praise of Imperfect Love"
"Advanced Alchemy"
Jessica Goodfellow's Blog.
Jessica Goodfellow's Web site.
Jessica Goodfellow on Twitter.
About Mendeleev's Mandala:
"Jessica Goodfellow has a joyous intelligence and electric tongue. Reading this book a first time, my only regret was that I couldn't read it a second first time. But then I read it a first second time and a first third. You see what I'm doing? I'm reading this book over and over, without ever completely taking it in. I think you will too. And like me, want only one thing from Jessica Goodfellow — more."
—Bob Hicok
"From the origin of the number zero to immigration to map making, these poems leap dynamically between ideas and a blazing exploration of language. Folding and unfolding with searing brilliance, these poems reveal our human condition with a down-to-earth sense of humor and wonder. This must-read collection nourishes mind and body and opens up whole new ways of seeing the world around us."
—Judy Halebsky
"This book is a library whittled down to a message in a bottle. Here is a poet who has boldly refused to abide to the expectations of genre—but instead, pushes language and form as a means of asking the most urgent questions. The result is a courageous and kaleidoscopic, at times tender and vulnerable, exploration of motherhood and family—set against the backdrops of science, history, religion, myths, and mathematics. When a poet embarks on a book as myriad and borderless as this one, we are gifted the rare chance to stand at the threshold of a formidable human storm. And from here, it is clear that Goodfellow's Mendeleev's Mandala is an electric book. But its lines are not limited to lightning. They move more like thunder, startling, resonant, and suddenly everywhere in the mind at once."
—Ocean Vuong
Support Verse Daily
Sponsor Verse Daily!
Home Archives
Copyright © 2002-2015 Verse Daily All Rights Reserved