®

Today's poem is "Garment Industry"
from The Arranged Marriage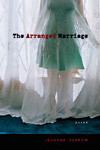 Jehanne Dubrow
is the author of four previous poetry collections, including Stateside and Red Army Red. She is the director of the Rose O'Neill Literary House and is an associate professor of English at Washington College.
Other poems by Jehanne Dubrow in Verse Daily:
April 16, 2015: "Casualty Notificaton" "Switch channels, stop..."
January 23, 2013: "Malamute" "Someone brought winter to the tropics. At first..."
December 6, 2012: "Puberty, as the Character of Gordon Gekko" "Greed was good, and I..."
July 15, 2010: "Recess" "The children are playing at murder again...."
November 29, 2009: "[my mind grew quiet]" "My mind grew quiet..."
Books by Jehanne Dubrow:

Other poems on the web by Jehanne Dubrow:
"The Long Deployment"
"The Valhalla Machine"
"Dinner with Kathleen Battle"
"Scheherazade"
Four poems
"Nowa Huta"
"Fancy"
Three poems
"Vinegar Aphrodisiac"
"A Small History of Shopping"
Two poems
"Fragment From a Nonexistent Yiddish Poet"
"Fragment From A Nonexistent Yiddish Poet #34"
"Shulamith Reads The White Hotel"
Two poems
"Fragment From A Nonexistent Yiddish Poet Ida Lewin (1906-1938)"
"Cinderella"
Three poems
Two poems
"Lot?s Wife in Eastern Europe"
Three poems
"Fragments from a Nonexistent Yiddish Poet"
"Fragments from a Nonexistent Yiddish Poet"
"Wild Mushrooms"
"The Amber Brooch"
Jehanne Dubrow's Website.
Jehanne Dubrow on Twitter.
About The Arranged Marriage:
"The Arranged Marriage brims with gorgeous wants: some of them dark and some 'the pink of bouganvillea.' In her newest collection Jehanne Dubrow writes of the dark bonds that tie women—'so easily torn, devoted to ornament'—to the complicated institution that is marriage in lyric portraits that uncover, unstitch, and unearth the secret entanglements at the heart of these intricate unions."
—Carmen Giménez Smith
"Here is a sequence of nuanced narratives, each anxiously circling arrangements of marriage, violence, and the shadows of history. Jehanne Dubrow has a storyteller's gift for suggesting, with enviable economy of language, the complexities of our relationships with those we love and the inescapable past that surrounds us. Elegant, intimate, and unsettling, The Arranged Marriage is a terrific—an important—book."
—Kevin Prufer
Support Verse Daily
Sponsor Verse Daily!
Home Archives
Copyright © 2002-2015 Verse Daily All Rights Reserved