®

Today's poem is "Advice from the Robot Scientist's Daughter"
from The Robot Scientist's Daughter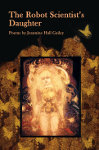 Jeannine Hall Gailey
recently served as the Poet Laureate of Redmond, Washington, and is the author of three other books of poetry: Unexplained Fevers, She Returns to the Floating World, and Becoming the Villainess. Her work has been featured on APM's Writer's Almanac, Verse Daily and was included in The Year's Best Horror. Her poems have appeared The American Poetry Review, The Iowa Review, and Prairie Schooner.
Other poems by Jeannine Hall Gailey in Verse Daily:
December 12, 2013: "She Had Unexplained Fevers" "some nights she just wasn?t..."
July 16, 2011: "Advice Given to Me Before My Wedding" "Better to be the lover than the beloved, you'll have passion...."
July 13, 2007: "The Husband Tries to Write to the Disappearing Wife" " I could have kept you..."
April 30, 2006: "When Red Becomes the Wolf" " In my dream you brought me fired bologna sandwiches...."
April 5, 2006: "Femme Fatale" " Even our names sound delicious..."
March 1, 2005: "Wonder Woman Dreams of the Amazon" "I miss the tropes of Paradise—green vines..."
Books by Jeannine Hall Gailey:

Other poems on the web by Jeannine Hall Gailey:
"Cesium Burns Blue"
"Elemental"
"Elemental"
Four poems
"The Robot Scientist?s Daughter [apocalypse]"
"Appalachian Childhoods Look Much More Picturesque"
Five poems
Six poems
Four poems
Two poems
"Female Comic Book Superheroes"
Two poems
"Allerleirauh Reveals Her True Self to the Prince"
"To a Self-Proclaimed Manic Depressive Ex-Stripper Poet, After a Reading"
"Sleeping Beauty Loves the Needle"
"The Snow Queen"
"The Robot Scientist's Daughter [Before]"
"I Forgot to Tell You the Most Important Part. . ."
Jeannine Hall Gailey's Home Page.
Jeannine Hall Gailey according to Wikipedia.
Jeannine Hall Gailey on Twitter.
About The Robot Scientist's Daughter:
"What is her story? 'In this story,' Jeannine Gailey tells us, 'a girl grows up in a field of nuclear reactors. She gives us lessons in poison. And as we watch this heroine appear from various angles, in multiple lights we realize that just like this girl who 'made birds' nests / with mud and twigs, hoping that birds would / come live in them.' Gailey makes an archetype for a contemporary American woman whom she sees as beautiful — and damaged — and proud — and unafraid. And the Scientist? He 'lives alone in a house made of snow. / If he makes music, no one hears it.' America? It builds barbed wire 'to keep enemies out of its dream' — but we all are surrounded by these barbed wires of a country whose 'towns melt into sunsets, into dust clouds, into faces.' In subtle, playful, courageous poems, we are witnessing a brilliant performance."
—Ilya Kaminsky
"The artificial light of radiation and the light of poetic artifice; the real memory of a childhood among inventions in a nuclear hot spot and the cybernetic hyper memories of fictional antiheroes and heroines; the elements, and the elements of style; the present day, the near future, and the futures that never were— you can find them all in these pellucid and memorable poems, in which Jeannine Hall Gailey becomes a storyteller, a creator, a rebel, an educator, and a heroine of her own."
—Stephen Burt
"In The Robot Scientist's Daughter, Jeannine Hall Gailey charts the dangerous secrets in a nuclear family as well as a nuclear research facility. Her ecofeminist approach to the making of bombs, celebrates our fragile natural world. Full of flowers and computers, this riveting poetry captures the undeniable compromises and complexities of our times."
—Denise Duhamel
"The Robot Scientist's Daughter gives us a magnificent voice who is at turns 'happy with the apple blossoms,' and yet whip-smart enough to know 'the beauties of voltmeter and oscilloscope.' But underneath the beautifully measured sheen and spark of these bright stanzas, is a human who opens up thrilling new worlds by also fearlessly inhabiting poems of sorrow, survival, and identity—one whose 'tongue is alive with lasers and [whose] song attracts thousands.'"
—Aimee Nezhukumatathil
Support Verse Daily
Sponsor Verse Daily!
Home Archives
Copyright © 2002-2015 Verse Daily All Rights Reserved