®

Today's poem is "A Theme Song That Never Gets Old"
from The Maintenance of the Shimmy-Shammy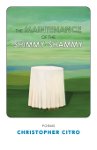 Christopher Citro
holds a BA from Ohio University and an MFA from Indiana University where he received the Darrell Burton Fellowship in Creative Writing and hosted The Poets Weave on WFIU. He won the 2015 Poetry Writing Competition at Columbia: A Journal of Literature and Art (chosen by Beth Ann Fennelly), and his recent and upcoming publications include poetry in Best New Poets 2014, Prairie Schooner, Ninth Letter, Subtropics, Third Coast, The Pinch, Salt Hill, Poetry Northwest, The Greensboro Review, and Verse Daily, and creative nonfiction in Boulevard and Colorado Review. Christopher has taught creative writing at Indiana University and in the Martha's Vineyard Institute of Creative Writing, and he is the Assistant Poetry Editor for decomP. He lives in Syracuse, New York with his partner Sarah and their black cat 92.
Other poems by Christopher Citro in Verse Daily:
July 8, 2014: "An Emergency Every Day of the Week" "It's how you know I love you..."
July 14, 2013: "An Emergency Every Day of the Week" "It's how you know I love you..."
November 26, 2009: "I Never Intend To, How 'Bout You?" "It's eight o'clock. Time to plug the ladder in. I love our new..."
September 4, 2009: "Emily, It's Better This Way" "They landed in the morning and nothing happened...."
Books by Christopher Citro:

Other poems on the web by Christopher Citro:
Two poems
Four poems
"Help! I'm Floating!"
Three poems
"Improving the Odds"
Three poems
Six poems
"Apparently, I'm Not a Joiner"
Two poems
Five poems
"Me in My Place"
Three poems
"Done Playing Hard To Get"
"First Indications (of Trouble at the Ranch)"
Christopher Citro's Website.
About The Maintenance of the Shimmy-Shammy:
"Christopher Citro may be the love child of poet Russell Edson and The Twilight Zone.Now, you may protest that men and TV programs don't mate and produce offspring. Yet I submit that in Mister Citro's oddball, deadpan, beguiling fables such a coupling would be business as usual. A man gently slips smoke rings over a woman's wrist like bracelets. A kid finds himself psychically stuck in the Middle Ages, as contemporary life churns around him (leading to the great phrase 'trial by Jell-O'). A couple unearths a circus in their backyard. Citro's speakers' gee whiz, small town innocence is the perfect mindset/weapon to carry into the mutating world he creates for them. Accustomed versions of reality disintegrate in that world. From the ashes of domesticity and order a new American surrealism blooms, in which the charming, the unsettling and the strange colonize the quote unquote normal."
—Amy Gerstler
"There's a fun-house effect to these poems that begins to feel deadly, or certainly dead-on, a spirited humor that pulls the scab off our droopy American moment. Could we be culturally asleep and not know it? Every art needs constant renewal—fresh eyes, a fresh voice, an original mind at work. Christopher Citro's skilled and wisely silly book goes a long way toward renewing poetry. This is a much-welcomed and necessary kick in the pants, chock-full of quirks and delights."
—Maurice Manning
"Christopher Citro's masterful debut, The Maintenance of the Shimmy-Shammy, is part circus and part menagerie, where the 21st century quotidian rubs shoulders with boundless imagination: the figures on a ceramic Amphora come to life with an old woman eating an Egg McMuffin and a guy at the supermarket shouting into his cell phone, a family of robots move to town, a man gets a zombie replica of his own face as a gift, a therapist prescribes fireplaces to his patients. Imagination and communication drive these poems—'What? What Is It You're Trying To Tell Me?' this book asks over and over, and Citro answers with wind-up chattering teeth as a perfect metaphor for our endless difficulties in bridging the gap between feeling and saying. Christopher Citro is a poetry pirate, plundering language and image to get at the human heart, in these luminous, inventive poems."
—Erika Meitner
"Christopher Citro's The Maintenance of the Shimmy-Shammy is simultaneously hilarious and terrifying, full of an antic wisdom and wit that insists on resilience over annihilation and despair. The remarkable imagination at work in these beautifully rendered poems shakes up the humdrum offering enlivening perspectives. These fables, these dancing lessons show us that "It's not the world, but how one orients oneself towards things…" A gathering of marvelous excavations, Citro unearths wonder re-enchanting the suburbatron of the heart. Read and experience these wild, shrewd, philosophical poems and let your world be transformed."
—Catherine Bowman
Support Verse Daily
Sponsor Verse Daily!
Home Archives
Copyright © 2002-2015 Verse Daily All Rights Reserved