®

Today's poem is "Practice by Fire & Doubt"
from Collateral Light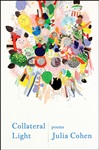 Julia Cohen
's first full-length book, Triggermoon Triggermoon, was published in 2011, and her third collection, I Was Not Born, will be released by Noemi Press in 2014. Her poems and lyric essays appears in such journals as jubilat, New American Writing, Kenyon Review Online, Colorado Review, DIAGRAM, and Black Warrior Review.
Other poems by Julia Cohen in Verse Daily:
February 16, 2011: "Hello, Kickstand" "Insect recipes & a performance pitted..."
Books by Julia Cohen:

Other poems on the web by Julia Cohen:
Four poems
Three poems
Two poems
Three poems
"Love that Postcards Lack"
"Not the Fact of a Burning Forest but the Scent of the Burning"
Two poems
Julia Cohen's Blog.
Julia Cohen on Twitter.
About Collateral Light:
"If you relish a poetry of the ear and eye, the light touch of vowels mingling in a breathing landscape, then you will feast on this book and these poems from Julia Cohen. Here the news is alive and subtly elegant. Here the cognate child builds her musings syllable by syllable to talk of insects on snow and little cliffs. Here the phrase is music and memory is inexhaustible. The things found in her night-garden—mimicry should be deliberate; the colossal leaf; the broken dinner plate—are replete with suggestive power. This is a voice indeed of an active and precise imagination."
—Mark McMorris
"Julia Cohen's speaker, chalky / from / banged up /stars, addresses the sticky stuff of existence from all sides, from that [t]ender veil of the buffering field. This book is full of arrows. Some pierce, some direct, some snap in half and form an X to mark the animal inside that animal / alive & yelping through the skin. Or we're shot through by being persons. Cohen won't heal, but will direct us in our grief, our weird grief shot through with pleasure. I can't just sit here with feelings. If you lose your grip on this book, if you slice your hand as the vanes pass through, hold tight as only the busted-beautiful can."
—Danielle Pafunda
Support Verse Daily
Sponsor Verse Daily!
Home Archives
Copyright © 2002-2013 Verse Daily All Rights Reserved