®

Today's poem is "Call Every Man Your Darling"
from Abel, Baker, Charlie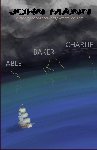 John Mann
is the author of Wyoming, a chapbook of poems (Finishing Line Press, 2008). His poems have appeared in Alaska Quarterly Review, Fence, Conduit, Massachusetts Review, Mid-American Review, The National Poetry Review, Vallum, Crazyhorse, and The Gettysburg Review. He won a Poetry Fellowship from the Illinois Arts Council and a resident fellowship from the Virginia Center for the Creative Arts. He taught creative writing at Western Illinois University and edited The Mississippi Valley Review.
Books by John Mann:

Other poems on the web by John Mann:
"February Rain"
"It Is Sweet and Fitting"
Two poems
"Fan Letter"
"Mirror"
About Abel, Baker, Charlie:
"John Mann is an archivist of the human heart and an accountant both of the natural world and popular culture. His precisely observed juxtapositioning of these in Able, Baker, Charlie never fails to surprise, never fails to move us. As Rilke advised readers to change our lives, so does Mann often build toward the insistent, as in "Hand over your dearest songs"–advice which the poet himself has surely heeded in this marvelous collection"
—David Stevenson
"John Mann's poems approach you not like the lantern that you plod towards through darkness, but like fireflies appearing at different points within the range of your vision that engage your every sense, enough for you to make sense of the journey you take through his unsettling, elliptical world. They seem to be written in outlying areas where the usual compasses and watches will not serve, but they will so thoroughly claim you that you may find that you have suspended your breathing."
—George Ellenbogen
"We have fooled ourselves into thinking that pain is simple—it is emptiness, a chasm. But John Mann's poetry shows loss with all of its lurid filigree, its barbed-wire curlicues. Mann probes this "atmosphere of void covered with frost" throughout Able, Baker, Charlie, and he manages to capture how we leave this void changed. There is no mitigating agent. Even love is defined as "the heart outside the body." Beauty is something that leaks from the eyes, and the sky "vomits its stars." Able, Baker, Charlie is a beautiful, painful read—more acute because of its dead-eye accuracy."
—Karen Craigo
Support Verse Daily
Sponsor Verse Daily!
Home Archives
Copyright © 2002-2012 Verse Daily All Rights Reserved