®

Today's poem is "Dark Forecast"
from Blue Nocturne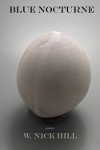 W. Nick Hill
says, "One of the first things I remember is being knocked to the ground by the front gate as I followed my unsuspecting father out to the Studebaker at the curb in Atlanta, Georgia. My relationship with the muse has been pretty much like that ever since, not that my dad was muse-like, far from it. Actually, I don't remember it; my mother told me I should." Later, he was, at various times, a cab driver, social worker, professor, and recently the farmers market manager in Port Townsend, Washington. The present book was preceded by And We'd Understand Crows Laughing, also published by Dos Madres Press (2012), and Mundane Rites / Ritos Mundanos, a bilingual chapbook that was a finalist in the Sow's Ear Chapbook competition in 1997. Hill's poetry has come out in journals such as World Literature Today, Dogwood, minnesota review, Windfall, and Más Tequila Review. As a translator, Hill has three novels in print, including his version of Miguel Barnet's Biography of a Runaway Slave (Curbstone Books, Northwestern University Press) which will appear in 2016 in a re-edition with a new introduction by Professor William Luis. Hill has also translated, among others, the poets Javier Campos and Jorge Fernández Granados, each in the "Translation chapbook" of different issues of the Mid-American Review.
Books by W. Nick Hill:

W. Nick Hill's Website.
About Blue Nocturne:
"In Blue Nocturne, W. Nick Hill creates a dreamscape by embracing dualities, then holding them up to the light until the reader becomes 'the dream painter/in the shadow world/awakening.' Beginning with a powerful section of hexagram poems, Hill takes us on a voyage to 'the center of the nothingness,' layering image upon image in a variety of nocturnes on subjects ranging from bugs to insomnia, interweaving the natural world as 'the I fades/into the forgiveness of forests.' An adept translator of poems, Hill reminds us 'no translation [is] /needed to know the heart's gallop.' Like the best Zen koans, these poems leave an indelible afterimage."
—Holly J. Hughes
"Reading Blue Nocturne, you will be surprised to learn of places where what occurs is not only what the eye sees but what amounts to an 'intercourse with the primeval,' as mediated by a thoughtful and wise cicerone. . . . Unexpected discoveries, like gemstones found in a riverbed, invite the reader to contemplate, and, even better, to experience, the tentative place of human consciousness in an unthinking but signaling universe of 'rivers that speak boulders' and of 'storms of stars.' At the end of the journey, as W. Nick Hill shows us, "home is nowhere,/ but close."
—David Cusic
Caring, precise, intelligent, profound—these beautifully crafted poems come out of the poet's flesh and blood literally steaming as if freshly skinned. The book is powerful and spooky and lovely all at the same time. 'I'm writing about it because I may have stopped believing it ever existed for me;' W. Nick Hill asks us to be careful and exuberant in our devotions. From the formal elegance of the hexagrams to the free form linguistic celebration of poems like 'Night, The Daily Refuge,' Blue Nocturne is a deeply conscious meditation on the relationship between action and consequence. Like a caravan these poems bear their gifts one page after another toward a truly restorative wisdom."
—Gary Lemons
Support Verse Daily
Sponsor Verse Daily!
Home Archives
Copyright © 2002-2016 Verse Daily All Rights Reserved