®

Today's poem is "Equinox"
from Two Men Rowing Madly Toward Infinity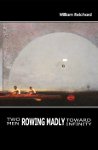 William Reichard
is a writer, editor, and educator living in Saint Paul, Minnesota. He is the author of four previous full-length collections of poetry: Sin Eater (Mid-List Press, 2010); This Brightness (Mid-List Press, 2007); How To (Mid-List Press, 2004), a finalist for the James Laughlin Award from the Academy of American Poets; and An Alchemy in the Bones (New Rivers Press, 1999), winner of a Minnesota Voices Prize. Poems from This Brightness and How To have been featured on NPR's "Writer's Almanac." He has published two chapbooks, To Be Quietly Spoken (Frith Press, 2001) and As Breath in Winter (MIEL Books, 2015), and edited The Evening Crowd at Kirmser's: A Gay Life in the 1940s (University of Minnesota Press, 2001). Reichard's anthology of fiction, poetry, and nonfiction, American Tensions: Literature of Identity and the Search for Social Justice, was published by New Village Press in April 2011.
Other poems by William Reichard in Verse Daily:
March 25, 2009: "The Uses of Things" "When the stove clock hands sprawl..."
August 9, 2004: "Saving the Appearances" "A metrics of mammals..."
July 27, 2004: "Yes and No" "Exactly the problem is..."
July 8, 2004: "Ways, Truths, Lights: Leaves of Glass" "The sun in wan puddles, pieces..."
Books by William Reichard:

Other poems on the web by William Reichard:
"For Liz in Summer"
"The Luminous Body"
Three poems
"Satsuma"
"A Trip Down Market Street"
Three poems
Two poems
"Helen Agonistes"
William Reichard's Website.
William Reichard on Twitter.
About Two Men Rowing Madly Toward Infinity:
"The poems in William Reichard's Two Men Rowing Madly Toward Infinity are not nostalgic, but still they ache keenly for a place and time long gone, ache for the Midwestern landscape with "no trees anymore—not enough to cut," ache for cattails and slow tractors, for men lost to the plague of AIDs and a sister who died waiting far too long for a new set of lungs. Here you'll find mown cornfields and lakes frozen over with sexual longing and silence—an often-overlooked landscape of this country (and the heart) made visible with an unflinching awareness. "Everything that has the will / to bloom," Reichard writes, "is a flower." Here then is his riot, his spring, his will, fierce and evident on every page."
—Nickole Brown
"There's no sound but our breathing, and the paddle as it strokes the water." Accept the offered craft of William Reichard's transport. Put your oar in with his erotic lyricism, his mouth to your ears. Two Men Rowing Madly Toward Infinity is a steady ride through the wonderous landscape of a Midwestern rural American childhood, a turn at the bend of Gravelly Run, a pass by Baudelairean gallows, and a final glide to "listen to the wind in the reeds along the lakeshore, how they lash the air, how they sing."
—Scott Hightower
"So the world won't lose them / I speak the names of those / I love aloud to the darkness. / Now they are safe." These lines from William Reichard's latest book, Two Men Rowing Madly Toward Infinity, express one of its recurring themes: the attempt of the poet to create something that time cannot destroy. In a book filled with doubles, doppelgangers, ghosts and echoes, everything that was is always happening now (or about to happen): "the atoms of all that's / been / all that / is, / all that / will be / merge in the darkness." Two Men Rowing... is the testimony of a man who, from the very start, admits, "I know things change" and still goes on to describe the people and places he's loved in such moving detail that we love them too.'"
—Joyce Stuphen
Support Verse Daily
Sponsor Verse Daily!
Home Archives
Copyright © 2002-2016 Verse Daily All Rights Reserved