®

Today's poem is "Post-Elegy"
from Post-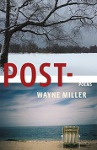 Wayne Miller
is a poet, translator, and editor living in Kansas City, Missouri. He also teaches at the University of Central Missouri, where he co-edits Pleiades: A Journal of New Writing. His verse has won more awards than can comfortably fit in a single sentence.
Other poems by Wayne Miller in Verse Daily:
January 16, 2013: "Report from the Provinces" "I can say that those stationed here..."
September 27, 2011: "After the Fever: A Pastoral" "After four months, the fever withdrew into her..."
October 5, 2010: "Bombing the City" "Some nights it was leaflets..."
June 12, 2008: "The Rescue" "All our debris above the sunken ship..."
February 18, 2008: "Street Fight" "What it was that filled me..."
November 10, 2006: "The Undressing" " See the roofs from the deck..."
Books by Wayne Miller:

Other poems on the web by Wayne Miller:
Seven poems
Two poems
Two poems
"Nude Asleep in the Tub"
"The Problem of Landing"
"For the 20th Century"
Wayne Miller's Home Page.
About Post-:
"This is poetry at its most powerful: instrument of change, defense against the commonplace of mall shooters and hoax bombs, deeply entered wisdom of the body in both birth and dying, and a bastion against loss and forgetting. Wayne Miller's Post- doesn't take this century lying down, it is a ringing rejoinder to those who say poetry does not matter. In Miller's lines, we hear the ancient magic of sorrow transformed to hope, elegy bent back around to ode."
—D. A. Powell
"What do we owe the living and the dead? It's a question that confronts all of us, personally and collectively, during our time on earth. In Post-, Wayne Miller engages this question with grim wit and empathy, strong music and imagery, in poems alive to the intersections of the domestic and political. I found myself, chagrined, involved, in every poem—this is a moving, thought-provoking book."
—Dana Levin
"In these poems, we see the way the world around us is layered by confrontation, love, and remembrance. And whether it is the birth of a child, the death of a father, the various ways we've found to kill each other, or the aftermath of a riot in response to those killings, we carry it all forward with us, in memory and action, and we give it to those who follow us."
—Adrian Matejka
"Part stark elegy where the ghosts we carry are relentlessly tied to us, part unrelenting look into today's world of social media, loneliness, and violence, and part fierce celebration of survival, Post- is a gorgeous and complex book of poems that both startles and soothes."
—Ada Limón
Support Verse Daily
Sponsor Verse Daily!
Home Archives
Copyright © 2002-2016 Verse Daily All Rights Reserved