®

Today's poem is "All The Important People #1"
from Why Elephants No Longer Communicate in Greek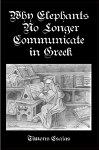 Timons Esaias
of Pittsburgh is a poet, satirist, essayist, and writer of short fiction whose works have appeared in nineteen languages, so far.
Books by Timons Esaias:

Other poems on the web by Timons Esaias:
"All The Important People #2"
"All The Important People #5"
"It Only Takes One"
"Dark Matter"
Two poems
Timons Esaias's Website.
About Why Elephants No Longer Communicate in Greek:
"Timons Esaias is a prankster, a comedian, and a magician. But his sleight of hand, misdirection, jokes, and science fiction metaphors — entertaining as they are — are only camouflage disguising his deadly seriousness. His poetry urges us to face the truth before the world ends, and his tone is one of profound disappointment that most of us are not much interested in this urgent mission: 'Just lie, and stick to it,/and physics,/responsibility, even fact, can take no hold.' Esaias' poems are funny, profound, and necessary."
—Michael Simms
"Good poetry is largely about the voice of the poet. In these wry and personable poems, Timons Esaias shows how good of a poet he is. In topics that range from the day-to-day to the sardonically fanciful, he provides pleasures for everyone from the casual poetry reader to the hard core, omnivorous fanatic. Esaias does what all good poets do: he's continually interesting."
—Mike James
"I first encountered the satirical essays of Timons Esaias in 1996-97 in a small newspaper called The Observer and have since followed his work in various genres, admiring his wit and erudition, his seriousness and humor. Finally we have this healthy collection of his poems, Why Elephants No Longer Communicate in Greek. It should be read whole, then kept on hand for a quick lift on a gray afternoon."
—Michael Wurster
Support Verse Daily
Sponsor Verse Daily!
Home Archives
Copyright © 2002-2016 Verse Daily All Rights Reserved