®

Today's poem is "Celeriac"
from Cooking with the Muse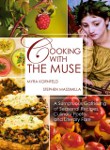 Stephen Massimilla
is a poet, scholar, professor, and painter/photographer. Acclaim for his previous books includes a Stephen F. Austin University Press Prize for The Plague Doctor in His Hull-Shaped Hat; the Bordighera/CUNY Poetry Prize for Forty Floors from Yesterday; the Grolier Poetry Prize for Later on Aiaia; a Van Rensselaer Award, selected by Kenneth Koch, and other honors. He has recent work in hundreds of journals, periodicals, and anthologies. Massimilla holds an M.F.A. and a Ph.D. from Columbia University and teaches at Columbia University and The New School.
Other poems by Stephen Massimilla in Verse Daily:
October 14, 2014: "Entering Vacant Stagehands" "Once she goes to sleep in my script, it is 2:00 A.M...."
September 20, 2010: "Etymology" "Out of yellow brain, out..."
November 3, 2007: "Love Like Rocks" " Respect the rocks, the way they hold..."
September 28, 2005: "Thinks Herself Precious at a Price" " Rounding the Cape Horn, you looked..."
March 16, 2003: "Two in Tropic Twilight" "If I once quickened among the whips..."
Books by Stephen Massimilla:

Other poems on the web by Stephen Massimilla:
Two poems
"Night Owl"
Three poems
"Specter of August"
Two poems
Three poems
Nine poems
"Blood Orange"
"Missed Signs"
Stephen Massimilla's Website.
About Cooking with the Muse:
"If I ever had the chance to take off a year and spend it in the country with my family, the one cookbook I'd pack is Cooking with the Muse. Preparing recipes from this book will persuade you to slow down and appreciate the powerful connection between food, poetry, and nature. Come to think of it, wherever you are—enjoying the fantasy vacation of your dreams or anchored to herth and home—Cooking with the Muse will provide you with a tasty new seasonal recipe, and poem, every night."
—Sara Moulton
"This vertiginous, seductive, learned book surprises the palate on every page. Its ranging, awakening recipes and awakening, ranging poems would be more than enough to satisfy any cook or reader. The added notes, though... These are an education, invitation, and testament to the peregrine splendors of human hungers of every kind—for dishes and flavors, for knowledge and history, for the transformations and sustenance that both cooking and literature bring. The only dilemma is where to shelve this—in the kitchen among the cookbooks, or in the library next to Dickinson, Hopkins, and Heaney."
—Jane Hirshfield
"A sensual chef-d'oeuvre of culinary prowess seasoned with the cultural notes of poetry and nutritional wisdom—you will savor every page of this holistic masterpiece."
—Kathie Swift
"I have fallen in love with Cooking with the Muse. What a treasure trove of recipes, poems, quirky and fascination literary references and reflections on food and its meaning in our lives. I don't knowwhen a cookbook has been such a good read! I find myself underlining my favorite bits, like this from Lucile Clifton: 'I taste in my natural appetite/the bond of live things everywhere.' I want to give this book to every poet and cook I know."
—Ellen Bass
"Delicious and captivating—the perfect source of inspiration—literary and culinary arts. What a great gathering of the gifts of poetry and cooking!"
—Barbara Sibley
Support Verse Daily
Sponsor Verse Daily!
Home Archives
Copyright © 2002-2016 Verse Daily All Rights Reserved