®

Today's poem is "The Philosopher Savant Contemplates the Dangerous Sun"
from The Philosopher Savant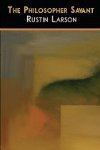 Rustin Larson
's poetry has appeared in The New Yorker, The Iowa Review, North American Review, Poetry East, and The American Entomologist Poet's Guide to the Orders of Insects. He is the author of The WineDark House (Blue Light Press, 2009), Crazy Star (selected for the Loess Hills Book's Poetry Series in 2005), and Bum Cantos, Winter jazz, & The Collected Discography of Morning, winner of the 2013 Blue Light Book Award (Blue Light Press, San Francisco).
Other poems by Rustin Larson in Verse Daily:
February 6, 2014: "Damaged Enough" "I still my heart and I can hear you..."
February 20, 2013: "The Philosopher Savant Again Dreams of War" "Insurgencies on boundaries of garden..."
September 15, 2002: "The Gerbils" "Happily busy in the middle of the night..."
Books by Rustin Larson:

Other poems on the web by Rustin Larson:
"The Carter Family Gets Famous"
Eight poems
"Breakfast on the Terrace"
"Mysterious Island"
Two poems
Five poems
Six poems
"One Cup of Tea"
Seven poems
Rustin Larson's Blog.
Rustin Larson's Website.
Rustin Larson on Twitter.
About The Philosopher Savant:
"A wise philosopher once said, "The unexamined life is not worth living." In Rustin Larson's The Philosopher Savant, life is surely examined-and remarkably imagined-in poems alive with surprising imagery, fresh metaphors, and a deeply empathic voice for important people, places, and things. True to any philosopher (or poet) worth their salt, Larson makes us think and see the world differently-as when describing the cold "Thewind put its lips to the house like Alaska" or a child's fall from a tree "I let go like a sawn branch from an elm tree./I fell and collected the ground with my body." These are poems rich with deft leaps and perfect landings, from a poet whose growing body of work is well worth serious examination."
—Christopher Seid
Support Verse Daily
Sponsor Verse Daily!
Home Archives
Copyright © 2002-2016 Verse Daily All Rights Reserved