®

Today's poem is "A Mouth"
from Un Poco Loco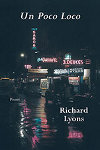 Richard Lyons
, the author of collections of fiction (Between Camelots; Into the Wilderness), poetry (Un Poco Loco; A Mouth) and essays (The Artist's Torah) was born and raised in the great city of Philadelphia, home of America's first library, first art museum, first public school, and first zoo, along with David's very first stories and poems, though those early efforts went on to become (deservedly) less famous than, for example, the zoo. Since those days he's lived in Ohio, Wisconsin, Philadelphia again, New York, New Jersey, Indiana, and Ohio again, picking up some education (formal and otherwise) along the way, and he now lives very happily in Washington, DC.
Other poems by Richard Lyons in Verse Daily:
March 8, 2009: "Morning and Night" "It will be at least another hour before the sun comes up...."
July 27, 2007: "Studies for a Portrait of a Father and Son" " I was about to say, in rain like this, the boy Moses..."
Books by Richard Lyons:

Other poems on the web by Richard Lyons:
"Psalm with the Doors and Windows Open"
Three poems
Two poems
Three poems
Richard Lyons's Website.
Richard Lyons According to Wikipedia.
About Un Poco Loco:
"Richard Lyons' Un Poco Loco is a collection of wide zigzagging solos through the circumstances of a life that will not settle for posturing or dull poetry-by-numbers or easy answers. His poems to jazz exemplars do not bestow stupefying honorific appreciation: they move. I believe Lyons to be one of our most powerful poets of lament: improvised into weird, existential, ecstatic, full throated protests against the unfelt past and an unfeeling present."
—William Olsen
"The most important thing I look for in a musician, said Duke Ellington, is whether he knows how to listen. Richard Lyons listens with his memory and his eyes, with all his heart and with every word to what we might mistakenly think of as small or bygone things. He sorrows and joys in the passing glimpse and in our changing mortal perceptions, blackbirds that "fall / like black handkerchiefs," a neighbor's outdoor mobile of rusty forks and spoons, time lost and gone, the one-time horn and piano riffs costing both artist and audience so dearly all bets are off except to go forward, to start from scratch, to cherish, to live. This is truly a heartening, irresistible poetry."
—Nancy Eimers
"Putting order onto what seethes is one of the gifts of Un Poco Loco, a vibrant collection taking on the difficulties of 'honesty/twisted with art.' Lyons honors the vastness and specificity of the arts, particularly music; often his poems' syllables splay and puncture like jazz notes, some long, some staccato, some that slam, others that retreat so that the reader is in a sort of unpredictable poetry boat, listening and reading, being carried off to the unexpected. How this poet treats aging, memory's anecdotes, guilt, yearning and life's unexpected beauty is simultaneously harsh and tender. 'Now that I am older/forever is a morning song.' And so forever clarifies how its arc falls backward (as we may understand it) and forward (as we hope we'll understand it.) Un Poco Loco is full of poems that offer so much at once the mind smiles in gratitude."
—Pamela Stewart
"Richard Lyons' poems are full of ontological longing, chronicling our harried passage through quotidian existence while remaining open to moments of unexpected grace. Un Poco Loco is a harrowing but also profoundly encouraging experience, with Lyons voicing feelings I realize are mine only by his articulating them. This is a stunning collection from a major poet."
—Robert Olen Butler
Support Verse Daily
Sponsor Verse Daily!
Home Archives
Copyright © 2002-2016 Verse Daily All Rights Reserved