®

Today's poem is "Voice from Lascaux"
from Jesus of Walmart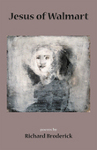 Richard Broderick
is the author of three collections of poetry and a collection of short fiction. He is a two-time winner of the Many Voices Project Competition sponsored by New Rivers Press, recipient of a Minnesota State Arts Board Fellowship, a Minnesota State Arts Board Artist Initiative Award and a Minnesota Book Award. He has also been a finalist for the Robert Frost Foundation Award, and is a two-time nominee for the Pushcart Prize in poetry. His work has been widely anthologized, including in The Next Parish Over (New Rivers Press) and the definitive The Book of Irish-American Poetry from the Eighteenth Century to the Present published by University of Notre Dame Press.
Books by Richard Broderick:

Other poems on the web by Richard Broderick:
"The Old Friend"
About Jesus of Walmart:
"These poems can make paint bubble and burn. Read them in broad daylight, to be on the safe side."
—Mike Finley
"There is a passionate drive and hunger in these poems—"Slow down you wolves. I am lonely too!" These poems dance with the movement and depth of each moment of time lived, filled with histories, memories, and ghosts who must not be woken but which claw at the shadows of awareness."
—Jared Smith
"In Jesus of Walmart, Richard Broderick explores the often shifting boundaries between human and animal, human and human, the self and the larger world, the macabre and the mythological, one side of the sky and the other—in the endless night to which the eyes refuse to adjust. We, the many, live and breathe in these poems, moving with deep humanity, with the wind and the snow and the river, with our daily grace."
—William O'Daly
"There are poems in Jesus of Walmart with extraordinary respect for distance, both historical and emotional. There are poems full of great lyric singing. A portrait emerges, as the narrator turns out to the world, and history, turns toward love and memory, we see his discernment of self, his dreams, his books—we become intimate with what he loves about light and rain, we walk with him as he holds up the lantern to the darkness he sees, but we always hear the singing."
—Deborah Keenan
Support Verse Daily
Sponsor Verse Daily!
Home Archives
Copyright © 2002-2016 Verse Daily All Rights Reserved