®

Today's poem is "Song with Peacock"
from Borrowed Wave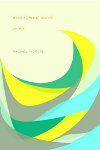 Rachel Moritz
's poems have been published in American Letters and Commentary, Aufgabe, Colorado Review, Denver Quarterly, 26, TYPO, Verse Daily, and VOLT. Among her awards are 2010 and 2012 fellowships from the Minnesota State Arts Board, a 2008 SASE/Jerome Fellowship, and a 2009 residency at the Kimmel Harding Nelson Center for the Arts. Rachel received her MFA from the University of Minnesota. She has taught writing in community and academic settings, including Hamline University, Macalester College, the University of Minnesota, and The Loft Literary Center. She lives with her partner and son in Minneapolis, where she works as an exhibit developer, teaches with COMPAS and Alzheimer's Poetry Project–Minnesota, and mentors in poetry through the Minnesota Prison Writing Workshop.
Other poems by Rachel Moritz in Verse Daily:
December 14, 2008: "Return" "Made of all the structures in my life..."
Books by Rachel Moritz:

Other poems on the web by Rachel Moritz:
"Borrowed Wave"
Three poems
"Umbilicus (World Axis)"
Three poems
"The shape of its body, the movement and the waveform"
"Pilot"
Rachel Moritz's Website.
About Borrowed Wave:
"We sometimes view beauty with suspicion—how does the pleasure it affords seduce us, mislead us? The startling beauty of Rachel Moritz's poems serves a different purpose. This beauty spatializes experience as an exquisite, if partially remembered—wavering—landscape. In that way, Moritz employs the beautiful as a tool that teaches us to be suspicious of time, space, and experience. ('So you can believe in the past, but it is still deciding.') The reader wanders this poetry, immersed in the poet's quandaries: 'Who were you waiting for before you came?' and 'Where was my body when before/hadn't vanished?' The questions are necessarily inconclusive. Even so, Moritz pursues with patience, skill, ardor. The Borrowed Wave laps at our feet, soothing. And then it swells and overtakes us."
—Elizabeth Robinson
"Book of memory, of metaphysics, of intimacy and of sex, book of selfhood and place, Borrowed Wave travels from childhood landscapes into adulthood's uncertain territory, each of its poems 'visceral as/becoming is.' Syntax is the protagonist of these poems, a singular intelligence singing its way through the vicissitudes of coming to know itself in body and in thought. 'The soul is real,' Moritz writes, 'but what does she want?' This book embodies the canny paradox that the more we come to know ourselves as adults, the more the essential questions of Being deepen. 'In love with making an unknown thing,' Moritz has a remarkable, rare gift for bare narratives whose restraint and abstraction allow the things we think we've come to know to become unknown again, so we might know them more accurately in all their weird oblique beauty."
—Brian Teare
"The poet here reports on a world borrowed and remembered, yet still unmade—'unmade as wilderness.' In her thinking and in her telling, Rachel Moritz sets the reader on a pilgrimage, moving out of both shared and individual history and out of belief. The landmarks of politics and family and understanding are refracted and reframed in her thinking and in her telling. If you hold onto your breath, you'll find yourself in a place of new meaning. That world is filled with song. This book is wondrous and heartbreaking."
—G.E. Patterson
Support Verse Daily
Sponsor Verse Daily!
Home Archives
Copyright © 2002-2016 Verse Daily All Rights Reserved