®

Today's poem is "How to Talk to Your Dead Mother"
from Louder Than Everything You Love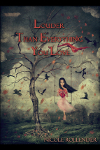 Nicole Rollender
's work has appeared in The Adroit Journal, Alaska Quarterfy Review, Best New Poets, The Journal, THRUSH Poetry Journal, West Branch, Word Riot and others. Louder Than Everything You Love is her first full-length poetry collection. She's the author of the poetry chapbooks Arrangement ef Desire (Pudding House Publications, 2007), Absence ef Stars (dancing girl press & studio, 2015), Bone ef My Bone, a winner in Blood Pudding Press's 2015 Chapbook Contest, and Ghost Tongue (Porkbelly Press, 2016). She has received poetry prizes from CALYX Journal, fulminate Magazine and Princemere Journal.
Books by Nicole Rollender:

Other poems on the web by Nicole Rollender:
Four poems
Two poems
Four poems
Three poems
"In the Silence After the Other Driver T-Boned Our Car, I Looked Into the Rear-View Mirror to See if My Children Were Alive"
"Morning Prayer"
"Light Work"
"Scattering"
"Judith"
"How to Stop Drowning"
Nicole Rollender on Twitter.
About Louder Than Everything You Love:
"Nicole Rollender's poems balance on the uneasy boundary between third eye and communion wafer. Beside an 'old woman shaking fish skeletons to conjure the dead,' the poet as body becomes a conduit for the generations in both directions, such that her 'body is full of holes the dead / look in and out,' while of her daughter she says, 'my ribs / were her scaffolding.' Rollender alternately glories and suffocates in her holy entanglement with her lineage, with her God. And when she comes up for air, she ululates a hauntingly familiar song."
—Jessica Goodfellow
"In this haunted and searching debut, Nicole Rollender intones the music of the body and its bones. Bones ring out from these poems as bells ring out from a cathedral—beautiful, reliable, ominous—to mark the inexorable passage of time which forms this collection's central point of disquiet. What will happen when we die? Sometimes tender, sometimes fierce, always heart-wrenching, Rollender's fixed gaze demands that we look straight on at our own possible deaths. And we are shown the many ways bodies are inhabited by the dead and by the bodies that pass through us into life as the poet probes her maternal lineage for answers about birth and death. She comes closest to finding those answers in her grandmother, in her children that form her legacy, and in the permanence of 'bones, our bones, [which] will always shine in the dark earth.' Just as these poems shine"
—Cynthia Marie Hoffman
"Nicole Rollender's Louder Than Everything You Love resonates of love and loss — all the while clinging to the sublime world around it. These transformative, stirring, deeply personal and beautifully written poems are filled with tenderness and a fragile but keen awareness of the poet's inner self and force: this field that's no more: to give up this earth is to sacrifice my body Rollender's alluring language shimmers within this intimate collection, which reckons light and dark; reminds us why poetry is urgent and vital."
—Helen Vitoria
"How do we live in a world made of simultaneous isolation and connection? How do we live in a world made of body? These are the questions Nicole Rollender's stellar Louder Than Everything You Love asks. These poems place desire, femininity and contemporary motherhood into conversation with each other in a way we have never before seen. These poems demand to be read, just as their messages demand to be understood. Rollender brings us on a journey, one in which we 'claw for any light.'"
—Peter LaBerge
Support Verse Daily
Sponsor Verse Daily!
Home Archives
Copyright © 2002-2016 Verse Daily All Rights Reserved