®

Today's poem is "minuendus"
from attraversiamo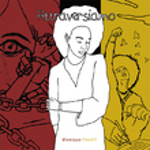 Monique Ferrell
is a poet and fiction writer. She is the author of three books of poetry: attraversiamo, (2016), Unsteady (2011), and Black Body Parts (2002). Her writing has appeared in American Poetry Review, North American Review, Antioch Review, Cimarron Review, and New York Quarterly, among other creative writing journals, as well as the anthologies Token Entry, Out of the Rough, The Place Where We Dwell, and Rabbit Ears: TV Poems. Beyond her creative writing pursuits, Ferrell is co-founder of 2 Bridges Review, co-editor of the feminist criticism text Looking for the Enemy: The Eternal Internal Gender Wars of Our Sisters, and author of a myriad of scholarly publications on writing, race, gender equality, and pop culture issues including the forthcoming book The Seduction Deduction: Erotica, Intellect, and God-like Transformation in Arthur Conan Doyle's Sherlock Holmes and Dr. Watson. Currently, she is a Professor of English and teaches Literature, Gender & Sexuality Studies, and Composition in New York City. She is also working on her first novel, Tuck, which focuses on the impact of mental illness and depression in African American families.
Books by Monique Ferrell:

About attraversiamo:
"attraversiamo is a phenomenal book of poetry by one of the 21st century's most talented black female writers. Monique Ferrell's lyrical collection lingers in the ear with potent insightfulness and vulnerability. She magnificently beckons all generations to be still and read."
—Marta Effinger-Crichlow
"'And it is stark,' Monique Ferrell tells us in the first poem of her new collection. She's right, of course. Everything is stark: desires, relationships, disappointments, even triumphs. We don't have the luxury of buffers; we always find ourselves negotiating sharp edges. There are no pretty pastel colors to ease us into a false sense of security; Monique describes an implacable world that's black, white, and gray. Her long lines have the urgency of breaking-news announcements, and throughout the collection she counsels the reader: 'keep your dignity,' she urges in one poem and reassures us in another that we aren't struggling in solitude ('it is hardgoing for us all'). This book is about how we respond to choices. We either can embrace its wise poems or ignore them. I choose the former."
—Joel Allegretti
Support Verse Daily
Sponsor Verse Daily!
Home Archives
Copyright © 2002-2016 Verse Daily All Rights Reserved