®

Today's poem is "Integrating the Shadow"
from I Ate the Cosmos for Breakfast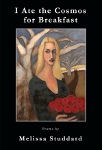 Melissa Studdard
's books include her new collection of poems I Ate the Cosmos for Breakfast, the best­selling novel Six Weeks to Yehidah, its companion journal, My Yehidah, and the interview collection The Tiferet Talk Interviews. Since its August 2011 release, Six Weeks to Yehidah has been the recipient of many accolades, including the Forward National Literature Award, the Pinnacle Book Achievement Award and January Magazine's best children's books. It was also named a finalist for the National Indie Excellence Awards and the Readers Favorite Awards. As well, her poetry, fiction, essays, reviews, and articles have appeared in numerous magazines, journals, and anthologies. Melissa currently serves as a Reviewer-at-Large for The National Poetry Review, an editorial advisor for The Criterion, and an editor for Tiferet Journal, where she hosts the journal's radio interview program, Tiferet Talk. Melissa received her MFA from Sarah Lawrence College and is a professor for the Lone Star College System and a teaching artist for The Rooster Moans Poetry Cooperative.
Books by Melissa Studdard:

Other poems on the web by Melissa Studdard:
"Respect"
Three poems
Three poems
"Killing the Moth"
Melissa Studdard's Website.
Melissa Studdard According to Wikipedia.
Melissa Studdard on Twitter.
About I Ate the Cosmos for Breakfast:
"Melissa Studdard'€™s high-flying, bold poetic language expresses an erotic appetite for the world: 'this desire to butter and eat the stars,'€™ as she says, in words characteristically large yet domestic, ambitious yet chuckling at their own nerve. This poet'€™s ardent, winning ebullience echoes that of God, a recurring character here, who finds us Her children, splotchy, bawling and imperfect though we are, 'flawless in her omniscient eyes.'€ť"
—Robert Pinsky
"In so many ways the poems in this book read like paintings, touching and absorbing the light of the known world while fingering the soul until it lifts, trembling. Gates splayed, bodies read as books, and hearts born of mouths, Studdard's study, which is a creation unto itself, would have no doubt pleased Neruda's taste for the alchemic impurity of poetry, which is, as we know, poetry that is not only most pure of heart, but beautifully generous in vision and feeling."
—Cate Marvin
Support Verse Daily
Sponsor Verse Daily!
Home Archives
Copyright © 2002-2016 Verse Daily All Rights Reserved