®

Today's poem is "This After Place"
from The Art of Departure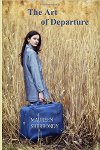 Maureen Sherbondy
's poems have appeared in numerous publications, including Calyx, Feminist Studies, European Judaism, 13th Moon, Comstock Review, Cairn, Crucible, The Roanoke Review, and the Raleigh News & Observer. Her poems have won first place in The Deane Ritch Lomax Poetry Prize, The Lyricist Statewide Poetry Contest, The Carrie McCray Poetry Award, and The Hart Crane Memorial Poetry Award. Maureen lives in Raleigh, NC. She has a BA degree from Rutgers University and an MFA degree from Queens University of Charlotte. She teaches English at Alamance Community College. Her books include After the Fairy Tale, Praying at Coffee Shops, The Slow Vanishing, Weary Blues, Scar Girl, The Year of Dead Fathers, Eulogy for an Imperfect Man, and Beyond Fairy Tales.
Other poems by Maureen Sherbondy in Verse Daily:
March 28, 2013: "Dust" "Those who sleep in the dust..."
April 30, 2011: "The Bees" "Those bees you crushed..."
Books by Maureen Sherbondy:

Other poems on the web by Maureen Sherbondy:
Four poems
Two poems
Six poems
Maureen Sherbondy's Website.
Maureen A. Sherbondy on Twitter.
About The Art of Departure:
"Power. Pow! Her! These poems will punch you in the heart, grab your mind mightily. Sherbondy wears Wonder Woman boots and they can kick you alive with love, loss and just plain living. She's 'touching fire to land once kissed and tended,' 'a scarecrow swallowing a wallow of stars.' She's iron fisted, heavy hammered and she knows her name. You will too. Stunning work from a poet whose praises cannot help but be sung."
—Ruth Moose
"From a long marriage that crashes and burns to a humorous look at first date disasters after divorce, the bold poems in The Art of Departure are smart and sassy with a fierce beauty that transforms loss and longing. 'What was there before departure?' Maureen Sherbondy asks in the book's first poem 'Meditation on Leaving.' The poems that follow do not so much attempt to answer that question, as to confront and come to a reckoning with loss, whether that loss is a baby bird that fell from the nest, the death of a father, or the end of a marriage. '…jump / and hope to fly,' she writes in the poem 'Fly.' Yes, indeed, these poems fly straight to the heart of anyone who has experienced loss."
—Pat Riviere-Seel
"When we think of the word art we might first think of a painting, a poem, or a musical score. But art is also a branch of learning. A skill. In The Art of Departure, Maureen Sherbondy uses her art, as a poet, to show us there is an art to leaving; to surviving deaths, divorce, and the redefinition of the self. "
—Jessie Carty
Support Verse Daily
Sponsor Verse Daily!
Home Archives
Copyright © 2002-2016 Verse Daily All Rights Reserved