®

Today's poem is "Ursa Major"
from Guide to the Exhibit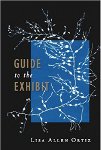 Lisa Allen Ortiz
was born and raised in Mendocino County, California. Her poems and translations have appeared in Narrative, Best New Poets 2013, Beloit Poetry Journal, and The Literary Review. She is the author of two chapbooks: Turns Out and Self Portrait as a Clock. She lives in Santa Cruz where she teaches creative writing to middle school students.
Other poems by Lisa Allen Ortiz in Verse Daily:
January 11, 2014: "Acre" "If we had one, I said, we could grow lettuce and peas..."
October 18, 2013: "The Ventriloquist's Heart" "At dinner I lean in close...."
October 31, 2009: "The Tortoise Survives the Fire" "He's at my friend's house now...."
Books by Lisa Allen Ortiz:

Other poems on the web by Lisa Allen Ortiz:
"Terrarium"
Four poems
"Day of the Dead"
Three poems
Three poems
"On Science"
"Ivory Bill"
"Zephyr's Grief"
"Zephyr's Grief"
"Why We're Going to Church"
"Manifest"
Lisa Allen Ortiz's Website.
About Guide to the Exhibit:
"With a naturalist's insatiable curiosity and an intimacy that comes from prolonged and meticulous observation, Lisa Allen Ortiz guides us through a world that seems exotic, but which we ultimately recognize as the only world: our own. These marvelous poems (for they are full of marvels) examine and catalog the flora and fauna of our planet, its rocks and skies and soil and waters, both from outside, looking at them, but also from inside, looking as them. I mean that literally. In language that is spare, precise, and at times wonderfully, subtly strange, Ortiz works in the overlap between self and world, showing us that time does not honor human consciousness, nor even recognize it. Yet the world is all we have, and what we are is part of it. We are not its masters, and the attempt to hold onto things by saving, describing, and labeling them, is doomed. We'll lose what we love. This hard-won understanding is the tough heart of this piercing, memorable book, which, like any memorial, is simultaneously a celebration of life and an elegy."
—Chase Twichell
"As Lisa Allen Ortiz moves through a natural history museum, she discovers a museum of her life, of all our lives, the remnants and reflections of what we have saved and what we cannot save. Her beautifully crafted language connects us to the elemental, as in this description of a hummingbird: 'carbon tenderness, / caught shimmer.' Through the careful, precise observation of individuality, she reveals universal truths. In 'Microfossil Exhibit,' she compares herself to tiny creatures—'such small wanting'—and finds our commonality in what is, perhaps, our deepest need, 'to be handled, seen, and noted.' Ortiz's devotion to exploring exactly this need makes Guide to the Exhibit so rich."
—Ellen Bass
"If EThis book has many things I most hope for in poetry. The speaker is madly in love with the world and its names, its things. There is courage everywhere and acute attentiveness. These poems come to you—urgent, rushing, and controlled, from a wide-open heart. A splendid debut."
—Thomas Lux
Support Verse Daily
Sponsor Verse Daily!
Home Archives
Copyright © 2002-2016 Verse Daily All Rights Reserved