®

Today's poem is "From Grace"
from Take Your Hand Out of My Pocket, Shiva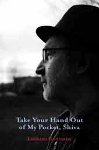 Leonard Gontarek
is the author of six books of poems, including He Looked Beyond My Faults and Saw My Needs and Deja vu Diner. His poems have appeared in American Poetry Review, Poet Lore, Verse, Blackbird, The Awl, Spinning Jenny, and The Best American Poetry, among others. He coordinates Peace/Works, Philly Poetry Day, The Philadelphia Poetry Festival, and hosts The Green Line Reading & Interview Series. Gontarek has received Poetry fellowships from the Pennsylvania Council on the Arts, the Philadelphia Writers Conference Community Service Award, and was a Literary Death Match Champion. His poem, 37 Photos From The Bridge, was a Poetry winner for the Big Bridges Motion Poems project and the basis for the award winning film by Lori Ersolmaz sponsored by the Weisman Art Museum in Minneapolis.
Books by Leonard Gontarek:

Other poems on the web by Leonard Gontarek:
Three poems
Three poems
"Coincidence"
"Crazy"
"Two Poems on Flying"
About Take Your Hand Out of My Pocket, Shiva:
"Leonard Gontarek's Take Your Hand Out of My Pocket, Shiva, Shiva is a large masterpiece consisting of small poems. The poet he immediately reminds me of is Leonard Cohen. I call this book a Zen punk classic—each poem has the driving force of a Ramones' song. Gontarek says what he needs to say, leaving explosive imagery behind, in his pursuit of love and God. Unlike a Johnny Appleseed who plants trees for the future generations, Gontarek swallows seeds, planting imagery that's directly related to the body. His verse is home—grown. He doesn't write to please, but rather to decipher his soul. Like the Clash's song "Lost in the Supermarket," Gontarek gets lost in adult movies and in his "Dickering with God," (his words) but he always finds himself at the end. Like early Bill Knott each poem is a religious relic, a snapshot conscious of the frame. The book at the end keeps reverberating like a percussion player who still hears the beat."
—Hal Sirowitz
"This is a book of human hungers so exact in its recognitions it leaves a reader stricken with a sense not just of how detailed our desires are, but how rare it is to have them articulated in ways yet unspoken. 'In my poor country, we poured sugar/ on everything to not notice our hunger,' Leonard Gontarek writes, but where that coat of sweetening fails, this poet stays to record what is still needed, what is still hungry, what is still so very, and beautifully, human."
—Katie Ford
"IWith its spare language, dry wit, and unnerving honesty, Gontarek's latest book delivers a sucker punch of solitude and desire. Here is a voice that offers no simple solutions to the whirl of the universe, but instead stands next to you and points out the small essential thing you forgot to notice. Deliberate, bare, and infused with a searing humor, these poems hiss and bloom at the same time."
—Ada Limon
Support Verse Daily
Sponsor Verse Daily!
Home Archives
Copyright © 2002-2016 Verse Daily All Rights Reserved