®

Today's poem is "The Prison Tourist"
from How to Break My Neck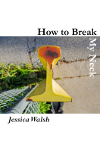 Jessica L. Walsh
was born in Ludington, Michigan. She received her BA from Kalamazoo College and her PhD in literature at the University of Iowa. She teaches at Harper College. Her poems have appeared in Ninth Letter, In Posse, Crab Creek Review, The Catalonian Review, Red River Review, and many other journals. She was a featured poetry blogger at the Tupelo Press 30/30 Project in 2014. Her poetry has been nominated by editors for the Pushcart Prize and Best New Poets, and she placed second in the 2014 Illinois Emerging Writers Gwendolyn Brooks Poetry Competition. She is the author of two chapbooks, The Division of Standards and Knocked Around.
Books by Jessica L. Walsh:

Other poems on the web by Jessica L. Walsh:
Four poems
"Given"
Jessica L. Walsh's Website.
Jessica L. Walsh on Twitter.
About How to Break My Neck:
"Kinetic, wary, tense with language that switches gears, contradicts itself, Jessica Walsh's How to Break My Neck is a collection that makes us readers hold on tight. From the outset the trajectory is 'doomward,' pronounced by science and effected by clueless lovers, 'prison tourists,' or dystopian figures that lurk about with clipboards, spreading rumors. Nancy Reagan keeps her skirts from flapping in the breeze with drapery weights, but not much else is anchored here. Too much is at stake; too much already lost to a past that needs us 'to say how lovely' and the realization that we are 'failing at this human business.' We humans 'think we're due some mercy, but we'd best think' again. Fortunately, thinking itself and the poet's wonderful wit make for a bracing, if breakneck, ride. The Sixth Extinction has found its poet, and she is us."
—Terry Blackhawk
"The poems in Jessica Walsh's How to Break My Neck are alive, visceral, and softly twitching. Each section beginning with different famous last words, these poems interrogate hard-hitting themes of purpose, mortality, and legacy with beautifully playful language. Whether discussing summer camp or a shark in a tsunami, these poems illuminate what it feels like to live, to be breakable."
—David Rawson
Support Verse Daily
Sponsor Verse Daily!
Home Archives
Copyright © 2002-2016 Verse Daily All Rights Reserved