®

Today's poem is "Psalm"
from Small Revolution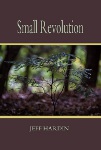 Jeff Hardin
is the author of Fall Sanctuary, recipient of the Nicholas Roerich Prize, as well as Notes for a Praise Book, winner of the Jacar Press Book Award. His third collection, Restoring the Narrative, received the 2015 Donald Justice Poetry Prize. A limited edition, letterpress collection of five-line poems, Until That Yellow Bird Returns, was recently printed by Red Hydra Press. A professor of English at Columbia State Community College, he lives in Columbia, Tennessee.
Other poems by Jeff Hardin in Verse Daily:
July 18, 2012: "Lightweights" "Even in these hostile times..."
June 17, 2003: "Choir" "Voices blend and bring us back from other..."
November 1, 2002: "Summons" Word comes today along the lengths of rain..."
August 3, 2002: "Trying to Get Near One Another" "While you are sleeping, a family of ducks / courses along the stream..."
Books by Jeff Hardin:

Other poems on the web by Jeff Hardin:
Four poems
"Not Reaching to Hold Anything"
Four poems
"A Few More Not Making It to the Coming Day"
"A Short Distance from Mountains"
Jeff Hardin's Website.
About Small Revolution:
"In a world fraught with naysayers and onlookers, with political exaggeration and too-clever sequels, thank goodness we have poets and men 'who define themselves/ by what they have/ a tenderness toward.' Jeff Hardin's Small Revolution may indeed start one, this man who loves bird flashings and stillness, who, with every breath, 'leans a little closer to this earth.' No world, however dewy or overcast, is ever commonplace in his vision and embrace. These poems, reminiscent of those inked by ancient Chinese contemplatives, tap at our windows to say please pay attention. More like postmodern beatitudes for our polarized times, each is a preposterousblessed be Hardin slips in when the forgetful world isn't looking."
—Linda Parsons Marion
"In Small Revolution Jeff Hardin is a day-to-day wizard, a shaman of moments. He praises those who converse with dragon flies, willows and people no longer here; those who are off 'studying moss,/finger-nudging an ant,/shrugging at evidence,/believing/otherwise.' Hardin's poems honor solitude, missing 'what's most essential: wind and rain against a window;/who [he's] been; some time alone;/a ripple on a pond gone back to still. . .' He reminds us that 'there are movies you can't get anywhere else/except by standing in a field, remembering how,/once,/you were a spirit in moonlight,/mended by wind through sage grass.' And even though Hardin ends 'To Fellow Poets' with 'I guess I'm asking could we be naive enough/to be naive again,' he is anything but naive. He personally understands sorrow and loss in our world and, even so, invites us to stand with him, spirit-filled and 'mended.' These lyrical, witty, sensory-rich poems understand the iffyness of existence and how personal syllables form a silence—a language of hope—in a nebulous world. Readers who approach these poems again and again will discover Hardin's revolution anything but small."
—Bill Brown
Support Verse Daily
Sponsor Verse Daily!
Home Archives
Copyright © 2002-2016 Verse Daily All Rights Reserved