®

Today's poem is "The Possibility of Refusing All Else"
from Portrait of the Future with Trapdoor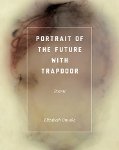 Elizabeth Onusko
's poems have recently appeared or are forthcoming in Witness, Best New Poets 2015, Redivider, The Awl, Linebreak, and Slice Magazine, among others. Her work has also been nominated for a Pushcart Prize and featured on Verse Daily. She is assistant editor of inter|rupture.
Books by Elizabeth Onusko:

Other poems on the web by Elizabeth Onusko:
"Performing Revolution for a More Luminous World"
"Winter Storm Warning"
"Apocryphal Memory of the Night We Met"
About Portrait of the Future with Trapdoor:
"I've never seen infertility described such—so magically, weaving science, lyric, heartache, ruthless precision, with the fanciful strange surreal, all through an apocalyptic lens that ends with rebirth (birth!) and hope! A really fresh take on a topic close to my heart. 'Tracking,' 'How to Be Almighty,' and 'The Evidence Against Me' absolutely cinched this contest for me. I adore these poems (and many others in the collection). The speaker's examination of her own body takes my breath away."
—Jennifer Givhan
"The difference between looking anywhere you can and looking anywhere you want reasons the weather of these exquisite poems, inside which malady, melody, severity, doubt, and pleasure approach and pass to be claimed by a voice too beautiful to ever stop listening for. Elizabeth Onusko may be here to show us how joy made sad gets to keep being joy, how to be beheld by meanness and not be it. This is the work of a vital, profuse mind undeniably at home in poetry.'
—Kathleen Peirce
'Elizabeth Onusko is a poet of high wit, high intelligence, and great musical rigor—she may be our Postmodern Metaphysical poet plummeting deeper and deeper with each book into the questions of self, sexuality, and knowing.'
—Gillian Conoley
Support Verse Daily
Sponsor Verse Daily!
Home Archives
Copyright © 2002-2016 Verse Daily All Rights Reserved