®

Today's poem is "Ephebe"
from Tartessos and Other Cities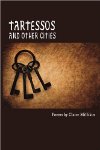 Claire Millikin
grew up in Georgia, North Carolina, and overseas. She received her BA in philosophy from Yale University, MFA in poetry from New York University, and PhD in English literature from the Graduate Center of the City University of New York. She currently teaches art history and sociology, as a lecturer at the University of Virginia. Her poetry has appeared in numerous literary journals and magazines, and she is the author of the chapbook The Gleaners (Tiger's Eye Press, 2013), her first poetry collection, Museum of Snow (Grayson Books, 2013), and After Houses (2Leaf Press, 2014), and Motels Where We Lived (Unicorn, 2014). Millikin participates in numerous conferences, colloquia,presentations, and workshops around the country capturing a wide range of topics, including women's literature, femininity, gender and violence, gothic and ghosts, poverty, and race relations. Her fellowships, honors, and awards include Excellence in Diversity Fellow (Univ. of Virginia, 2011-2012); The Carolyn G. Heilbrun Dissertation Prize (2003); and The Helene Newstead Dissertation Year Fellowship (Graduate Center, CUNY, 2000-2002).
Other poems by Claire Millikin in Verse Daily:
August 6, 2015: "Dusk Waitress" "At the end of childhood, I worked in a restaurant...."
February 4, 2014: "The Foxes" "Step by step, door by door, she opened the house..."
Books by Claire Millikin:

Other poems on the web by Claire Millikin:
"Materiality in Poetry"
Other poems on the web by Claire Millikin:
"First Day of Spring, First Spring"
"Tartessos and Other Cities"
"What My Father-in-Law Says"
"We Are All On the Edge of Something"
Three poems
Two poems
"Helen Agonistes"
Claire Millikin's Website.
Claire Millikin According to Wikipedia.
Claire Millikin on Twitter.
About Tartessos and Other Cities:
"In TARTESSOS, Claire Millikin takes us deep into both the imagined and real cities and houses of the mind. Memory strikes an urgent chord in her work, haunted by the family and strangers who step in and out of a world that is lost and found and lost again. "I was born and raised in that country of damage/ behind the rains," Millikin tells us, as she considers the tension between the elegiac and the erotic. TARTESSOS is a stunning mix of evocative beauty and remarkably fine-tuned language."
—Kathleen Ellis
"Tartessos was a semi-mythical harbor city on the south coast of the Iberian Peninsula. The Tartessians were important tradespeople, most notably of gold, silver, tin and bronze. In Claire Millikin's TARTESSOS AND OTHER CITIES, she offers poetry that is metal-rich, that solders narratives and images of precious value. With a deft hand, final couplets in poems like "Tift County, Georgia" become lasting epigrams: "Only the surface layer / of history passes for truth." These poems seek out uneasy passages into tombs where the speaker examines unsettling memories of human activity in the past that are enacted anew before the reader's eyes. Using passive and active remote sensing abilities, Millikin's poems are amulets of hope, endurance and survival."
—Sean Frederick Forbes
"The project of Claire Millikin's TARTESSOS AND OTHER CITIES is to come to terms with the condition of being cut off from origins — the timeless subject of exile. These poems enact the diffi cult work of retracing one's way through imagination to lost home and lost memory, landscape calling out to be mended. The book's honesty and precision in looking back achieves remarkable transformation—the possibility of seeing the present moment anew."
—Debra Nystrom
Support Verse Daily
Sponsor Verse Daily!
Home Archives
Copyright © 2002-2016 Verse Daily All Rights Reserved