®

Today's poem is "Skin Doctor on a Nude Beach"
from Dancing with Bare Feet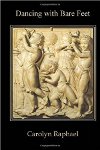 Carolyn Raphael
retired from the English Department at Queensborough Community College, City University of New York, after more than thirty years of teaching. Her poems have appeared in journals including The Lyric, Measure, Blue Unicorn, Long Island Quarterly, and on the Newington-Cropsey Cultural Studies website for the American Arts Quarterly, where her poem, "Honorable Mention," was nominated for a Pushcart Prize. Her poetry collection, The Most Beautiful Room in the World, was published by David Robert Books in 2010, and her new collection, Dancing with Bare Feet was published by White Violet Press in early 2016.
Books by Carolyn Raphael:

Other poems on the web by Carolyn Raphael:
Seven poems
Five poems
"Swept Away"
"Epithalamium"
Carolyn Raphael's Website.
About Dancing with Bare Feet:
"What I so much like about Carolyn Raphael's poetry is its intense skill, how Dancing with Bare Feet's dramatic monologues unwind so fittingly, how the book's witty poems jab so severely and swiftly, and how its poems reeling from others are brought before us with such loving care. My favorites here include 'Sleeping with Darth Vader,' 'Great-Grandma's Counsel,' 'Kaddish for the Cardinal,' 'Thank You for Coming' and 'Sprezzatura.' This is a collection where the historic and the ironic exist alongside the wicked and the delightful. Carolyn Raphael's poems are exacting and out-of-the-self—achingly true poems of the human dance."
—Dick Allen
"If you like to travel, these poems are for you. The excellent poet-guide takes you not only to relatively accessible places—a health club for The Beautiful People, for example, or a Washington subway stop where a famous violinist is performing incognito—but also to destinations reachable only via time travel: fifteenth-century Rome and Venice, the sixteenth-century auto-da-fé that finished off Giordano Bruno, or the graveside of a slave who sued for her freedom in pre-Civil War Massachusetts. And then there are those other, least accessible places of all, human minds not our own, peered into from various angles: a parent learning to 'let go' and an adopted child choosing to let go by leaving his parentage uninvestigated; a stranger aging in the mirror; the poet herself on a bad day . . . . Come aboard! I guarantee you'll laugh, learn a lot, and go home with valuable souvenirs."
—Rhina Espaillat
"Carolyn Raphael's formal dexterity dazzles and her aphorisms sizzle in Dancing with Bare Feet. Jaunty meters anchor the poet's sometimes witty, sometimes tender arguments. She mocks, parodies, and tugs the truths from art, music, parent-and-grown-child dilemmas, aging and more. Whether she stops the family car by the woods to tease Robert Frost or one-ups Browning with 'The Next Duchess,' Carolyn Raphael aims to arm-wrestle the canon—and wins. Bravo for Dancing with Bare Feet."
—Molly Peacock
Support Verse Daily
Sponsor Verse Daily!
Home Archives
Copyright © 2002-2016 Verse Daily All Rights Reserved