®

Today's poem is "Praise Poem"
from Let it Die Hungry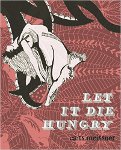 Caits Meissner
's previous book, The Letter All Your Friends Have Written You, was co-written with Tishon Woolcock (Well&Often, 2012) Her work has been awarded first place prizes from the Pan-African Literary Forum's OneWorld Fellowship, the Jan-Ai Scholarship Fund and City College's The Jerome Lowell DeJur Prize in Poetry. Caits's poems are published in numerous journals and anthologies including Drunken Boat, The Literary Review, Split This Rock Poem of the Week, Adroit, Public Pool, The Feminist Wire and The Offing. In 2010 she released an album, the wolf & me. Erykah Badu called it "Fresh, honest and loving," with "a delicate heart like mine."For over 15 years, Caits has facilitated innovative arts programs and co-created across a wide spectrum of organizations and communities, with a special focus on spaces of incarceration, women and youth. She serves as Writer-in-Residence at Bronx Academy of Letters, piloting a creative writing exchange between free and incarcerated young people, and is part-time faculty at CUNY and The New School. She writes with (Re)Emergent Theatre, and is an MFA candidate in Creative Writing at The City College of New York.
Books by Caits Meissner:

Other poems on the web by Caits Meissner:
Two poems
Three poems
Three poems
"Recipe For Grounding"
"M A N I F E S T O for my homegirls"
"There Are So Many Poems For Black Boys in America"
Two poems
Caits Meissner's Website.
Caits Meissner According to Wikipedia.
Caits Meissner on Twitter.
About Let it Die Hungry:
"Caits Meissner's Let it Die Hungry is a stunningly potent archive of surviving. In poems, drawings, notes, and workbook style experiments, Meissner generously shares her tools of becoming while simultaneously reinventing what a book of poems might be. In each of these modes it is clear: Meissner believes in the powers of seeing, testifying, and saying what is most difficult. Running through the blood of this book I hear Audre Lorde's charge: 'Your silence will not protect you.' From lyric narratives to achingly lucid prose, this book is ardor-medicine against oblivion. These poems '[spill] past the heart's armor.'"
—Aracelis Girmay
"Caits Meissner writes in the tradition of Levertov and Forche. A clear eyed witness with an intense lyric sensibility, her poems illuminate the shadows of self and society that lie outside the margins of acceptable discourse. There is no point at which she endeavors to comfort or assuage. Which is to say, Meissner is that rare poet who can simultaneously and sincerely give a damn... while also giving zero fucks."
—John Murillo
"In this collection dedicated to the women poets of Afghanistan that concludes with a poem for the women poets at Bedford Hills Correctional Facility, Caits Meissner writes with great urgency of lives and landscapes scarred by conflict and pain. But even as her rangy, associative poems take us into terrain of turmoil, her compassion for her subjects offers the possibility of reconciliation through the very recognition that poems provide."
—David Groff
"Caits Meissner's Let It Die Hungry deals with the difficulty of the body, the 'human robe' (as she aptly calls it) that hinders and endangers the soul beneath. It's an intense book—at times violent and vulnerable— a dangerous but brave place for readers, filled with dreams, fantasy, nightmare, all mixed-in with stark reality. These poems are human and wise, and in the writing prompts, the reader is helped along in the struggle to better understand oneself. This is a wildly exciting debut book."
—Bianca Stone
Support Verse Daily
Sponsor Verse Daily!
Home Archives
Copyright © 2002-2016 Verse Daily All Rights Reserved