®

Today's poem is "I Close My Eyes When I Listen to Poetry"
from The Body, A Tree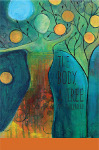 Amy MacLennan
sits on the board of Chautauqua Poets & Writers in Ashland, OR. Amy is the Editor of Cascadia Review, Managing Editor of The Cortland Review, and a poetry editor for Bone Bouquet. Her work has been published in Cimarron Review, Cloudbank, Connotation Press, Folio, Hayden's Ferry Review, Linebreak, Naugatuck River Review, Painted Bride Quarterly, Pearl Magazine, Pirene's Fountain, Poet's Market, Rattle, River Styx, South Dakota Review, Spillway, The Oregonian, The Pedestal Magazine, Windfall, and Wisconsin Review. Amy has published two chapbooks: Weathering (Uttered Chaos Press, 2012) and The Fragile Day (Spire Press, 2011).
Books by Amy MacLennan:

Other poems on the web by Amy MacLennan:
Four poems
Three poems
"When Nancy Drew the Line"
"Telegram"
"The Daylight is Huge"
"Heat and Hunger"
"Between Two Ranges"
"On Seeing 'Envy Barn' in the Real Estate Listings"
Amy MacLennan on Twitter.
About The Body, A Tree:
"Opening in the aftermath of a breakup, this book moves through an entire calendar year of grief and recovery before closing with poems so sensuous and raw that it is possible to believe love's pleasure is not merely worth but is also somehow deepened by its pain. At the book's heart is the body that loves another body, suffers its absence, and lives to love again. In the last poem, the speaker lies in bed with a new lover, composing a cable that reads: 'one of us will leave/I will remember my body / ached for you like no other stop.' That "stop" ends the telegram and the book but is also a command to banish worry and allow the speaker to, as she has in all these deeply felt and sparely written poems, live in the tender, stung moment."
—Rebecca Foust
"Somewhere in a great library of the heart, beyond Fan Fiction for Young Comets, near the Biographies of Old Oaks, between Desire 101 and AP Capture is Amy MacLennan's The Body, A Tree. Look for a space where a book is missing. If it hasn't been checked out, then it's escaped on its own. It is unshelvable. You can hear it, reading itself aloud: 'Allow brevity' it says. 'Allow sweetness. Allow smudged ink.' With her first full-length collection, MacLennan has conjured poetry of gentle authority, at once bold and vulnerable."
—Brendan Constantine
"Taut with precision and economy, lush with the music of Eros, The Body, A Tree gives us remarkable poems of the body—sensual, strikingly sensate, fully embodied. With Amy MacLennan's innovative diction and memorable imagery, even the weather—that talk-worn topic—becomes newly alive. A summer afternoon storm is '...a hurly-burly jig shaking its way/ across the valley floor—fuss, heavage,/ blinks and streaks, low bellowed tone...' This whole book is a marvelous storm of lust and longing, anticipation and satiation. Reading these poems, I'm both immensely satisfied and pell-mell avid to read them again."
—Paulann Peterson
Support Verse Daily
Sponsor Verse Daily!
Home Archives
Copyright © 2002-2016 Verse Daily All Rights Reserved