®

Today's poem is "Forgetting Dante in Third Period"
from Paper Birds Don't Fly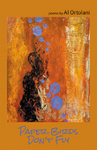 Al Ortolani
was born in Huntington, New York in 1952. He was raised in Pittsburg, Kansas, attending Pittsburg State University where he received his B.S. in Education, M.A. in English and an Ed.S. in Higher Education. As a boy, he dreamed of playing second base for the New York Yankees. When the scouts failed to show, he began writing poetry. Ortolani is a career public school teacher in Kansas. His poetry and reviews have appeared in journals such as Prairie Schooner, New Letters, The Midwest Quarterly, The English Journal, and the New York Quarterly. He has four books of poetry, The Last Hippie of Camp 50 and Finding the Edge, published by Woodley Press at Washburn University, Wren's House, published by Coal City Press in Lawrence, Kansas, and Cooking Chili on the Day of the Dead from Aldrich Press in California. He is on the Board of Directors of the Kansas City Writers Place and is an editor with The Little Balkans Review. He currently lives in the Kansas City area with his wife Sherri.
Books by Al Ortolani:

Other poems on the web by Al Ortolani:
"Asphalt"
"Paper Birds Don't Fly"
"Waiting on Lazarus"
"Girls' Choir"
"Noble Silence"
"Fox on Greenway Lane"
"Death Star Halloween"
Four poems
Three poems
"Death Star Halloween"
Four poems
"Monofilament Whiskers"
Al Ortolani's Website.
About Paper Birds Don't Fly:
"Paper Birds Don't Fly reads like a road trip through the Midwestern mind. It's a long book of poems, with room for many moods and musings as it meanders through a landscape of humor and insight. Ortolani has packed all we need for the journey: a friendly voice, a bit of music, and the deft hand of a true storyteller guiding the wheel."
—Timothy Green
"Al Ortolani stuns his readers like a stage magician. Leaves fall 'like lazy sparrows' and a town 'is pressed/into the hillside/like a wildflower.' He abracadabra-s ordinary sights into miracles, like an origami paper bird sent from his dead father in a dream. Memory wafts through the familiar as the poet's steady, measured voice reveals how language is metaphor for everything. This book is essential reading in the 21st century."
—Denise Low
"There is something quite unique to Ortolani's creation of a poem. It dips into a piece of Americana without being preachy or condescending, allowing for the reader to embrace what is on the page for themselves. That is a trademark of a great collection: allowing the reader to critically think on their own terms. There is a playful tone to this work but the feeling of it is poignant as hell. In the poem, 'Writing Every Day,' the first line states, 'The cat woke me this morning...' and we certainly are glad the cat did."
—Thomas Fucaloro
"Al Ortolani eases the reader into a boy's world so effortlessly in Paper Birds Don't Fly, a town where "time hung like a slow curve," we don't think about where he's taking us. This is the town he grew up in and is intrinsically a part of. Wilder's fictional town, Grover's Corners (Our Town) came to mind as I walked through it, poem by poem—a town I was sorry to leave when I got to the end. Anecdotal incidents involving friends and family, the day-to-day little things of their lives build to the universal. 'Fifty years is a long time for boys, an impossibility for dogs, a big nothing for the sun.'"
—Linda Lerner
Support Verse Daily
Sponsor Verse Daily!
Home Archives
Copyright © 2002-2016 Verse Daily All Rights Reserved