®

Today's poem is "Dark Matter"
from Hotel Worthy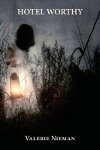 Valerie Nieman
's poems have appeared widely and been collected in two chapbooks and her debut collection, Wake Wake Wake (Press 53). She has held writing fellowships from the National Endowment for the Arts and the North Carolina Arts Council. Her books of prose include three novels, with the most recent, Blood Clay, being honored with the Eric Hoffer Award. She is a graduate of West Virginia University and Queens University of Charlotte. A professor of creative writing at North Carolina A&T State University, she teaches at John Campbell Folk School and other venues, and serves as poetry editor for Prime Number Magazine. You may encounter her on a train, or solo hiking, or over a cup of lemon-ginger tea at a local bookstore.?
Books by Valerie Nieman:

Other poems on the web by Valerie Nieman:
"Approach"
Five poems
"Like Mother"
"A Braid of Garlic"
"Ghazal: Style"
from "The Regent's Park Sonnets"
"Invocation"
"Villanelle"
Valerie Nieman's Blog.
Valerie Nieman's Website.
About Hotel Worthy:
"Check into Hotel Worthy and you'll never want to leave. There abides in its pages an uncanny past wrought into poems that spring from a memory that unites the dead with the living, restores the abandoned, returns the missing. This is a startling book. The language—its lyric nuance, its plaintive harmonies, its ceremonial beauty—is unforgettable. In the words of the poet, 'Each blow of wood on wood / sets ripples on the water: / deo gratias, deo gratias.' Deo gratias indeed—for Hotel Worthy."
—Joseph Bathanti
"At last, a book that states clearly the purpose of life. According to Val Nieman's Hotel Worthy, it's to know things, especially the names for things—Candor peaches, Marvel-of-Peru, pipsissewa. It's a pleasure to hear the quiet, sure voices of these poems, to be caught off guard when some swoop wide at the end like the trumpets of lemon lilies, to be reminded that "the personal . . . holds hands with the larger all the way up.'"
—Sarah Lindsay
"From the moment I read the title poem's breathless rush of poignant reflections, I knew I was in the presence of a poet keen to explore life with searing honesty. She regularly dazzles with unexpected juxtapositions of experience. Framing a middling spousal argument in one poem is a riveting vision of an eagle. And although the narrator's partner notices nothing, we notice, our hearts crushed by the thwarted longing for beauty and reconciliation. Prepare your heart—these are poems that matter."
—Marc Harshman
"Valerie Nieman writes so intimately that I wondered if I had written her poems, and I wish I had. At the beginning of Hotel Worthy she releases her poems to the universe. In the prose poems her language grows so precise it is haunting. My favorite poem is 'Choice of Words' in which she and her father become single in the same year. He is bereft whereas she is divorced, an act which is a 'civilized/Coming apart/separated like an egg.' Read this book for the surprising images folded into a remarkable journey."
—Glenna Luschei
"What are we to do with the lost, broken, failed things of our lives? How do we piece together the shards of relationships that didn't last, salvage the ghosts of our younger selves? Like a daring archeologist, the poems of Hotel Worthy dig [deeply] into the intimate layers of years, excavating the fossils of memory, love, loss, and family history. These poems compel us to have the courage to emerge from our past shipwrecks and embark anew. This collection is a roadmap for beginning again."
—Ansel Elkins
Support Verse Daily
Sponsor Verse Daily!
Home Archives
Copyright © 2002-2015 Verse Daily All Rights Reserved